Andrés Duany — who is a native of Cuba — observes that New Orleans should not be considered the most corrupt city in America, but the least corrupt city in the Caribbean. But, he warns, the city is in danger of losing its Caribbean soul since many of the people who are key to that soul are not moving back.
Many of New Orleans' low-income neighborhoods were built decades ago, when building codes were not as strict as they are today. Rebuilding them to meet modern codes will cost far more than their former occupants can afford.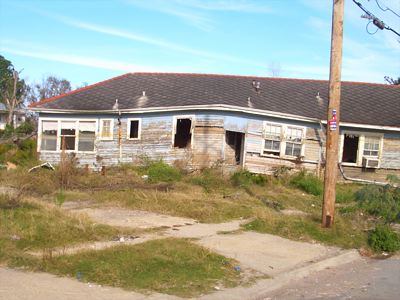 Many New Orleans neighborhoods remain unoccupied because their former residents cannot afford to rebuild to modern zoning codes. Flickr photo by lambchops.
Of course, plenty of wealthy people are moving back to New Orleans. "But the culture of this city does not flow from them," says Duany. "They may provide the backbone of New Orleans but not its heart."
Duany has a solution: Create an "an experimental 'opt-out zone': areas where one 'contracts out' of the current American system, which consists of the nanny state raising standards to the point where it is so costly and complicated to build that only the state can provide affordable housing."
"For three centuries Americans built for themselves," adds Duany. "They built well enough, so long as it was theirs. Individual responsibility could be trusted. We must return to this as an option."
The drawback to this proposal is that, if homes in the opt-out zone do not meet minimum building codes, banks may not be willing to give their owners home equity loans, which are a major source of funds for small businesses. This poses the danger of a two-tier society: one of poor people who can afford minimal housing but have little upward mobility, and one of wealthy people who can afford housing in highly regulated areas.
Why just create a few opt-out zones? Why not simply deregulate the entire land market? Duany says that opting out "is not for everybody. There are plenty of people in New Orleans who follow the conventional American eight-hour workday."
I like the idea of deregulation. But instead of two zones, perhaps we should have multiple zones:
A totally deregulated area, with no building codes, zoning, or other rules;
An area of the minimal building codes and other regulations needed to get banks to provide mortgages and home equity loans;
An area with building codes and simple zoning setting maximum densities and some setbacks but no minimum densities and no other design standards;
A fully regulated area with strict design standards.
These zones would not be oriented around people's incomes but around their desire for order and planning. Perhaps neighborhoods could vote on which zone they want to be in. Which zone would you want to live in?