The Antiplanner's faithful ally, Wendell Cox, has just released a new compilation of downtown job data. His data include the number of jobs in the nation's 52 largest metropolitan areas (those with populations of more than a million people), the percentage of each region's jobs that is downtown, and transit's share of commuting to those downtown jobs. These numbers are based on the Census Bureau's American Community Surveys for 2006-2008, so are mostly from before the recent recession.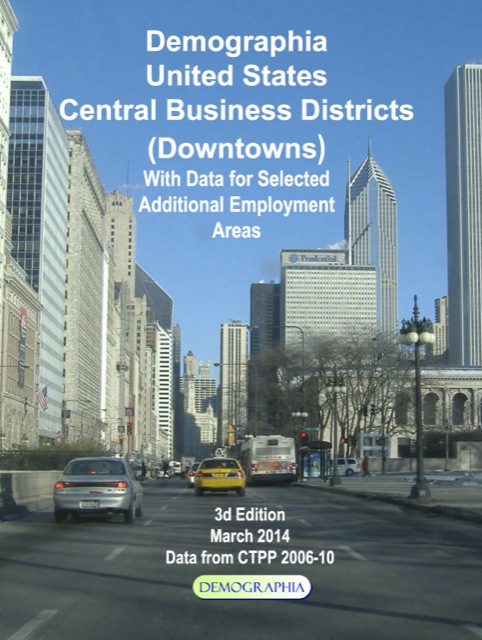 Click image to download report.
One thing the data show is how New York is unlike any other metropolitan area in the country. New York is the only metro area that has more than a million jobs downtown, and it has just shy of two million. Number two is Chicago, which has just over 500,000. New York is the only metro area that has more than 15 percent of its jobs downtown, and it has 22 percent. New York is the only metro area in which transit carries more than 60 percent of downtown commuters; in fact, it's 77 percent.
Cox defines New York's downtown as Manhattan south of 59th Street, which is less than 8 square miles. So that's a job density of more than 250,000 workers per square mile, another number that is vastly larger than in any other metropolitan area.
Besides New York, just five metro areas (Chicago, Washington, San Francisco, Boston, and Philadelphia) have more than 200,000 downtown jobs, and just six more have more than 100,000 jobs (Atlanta, Houston, Dallas, Seattle, Los Angeles, and Denver–Minneapolis just misses with 99,315 jobs). Transit's share of downtown commuting is directly correlated with the concentration of jobs: its above 40 percent for all those downtowns with more than 200,000 jobs, but only 13 to 37 percent for downtowns with 100,000 to 200,000 jobs.
Outside of downtowns, transit's share of commuting is much smaller. In New York it's 16 percent, which is higher than in any metro area as a whole (including downtowns). But in the next eight metro areas its just 5 to 9 percent; it's 4.3 percent in Portland; and in the remaining metro areas its just 0.5 to 3.5 percent.
Cox shows that transit has low shares of commuting to most major employment centers outside of downtowns, even including some that have more than 200,000 jobs. Transit carries just 4.6 percent of the 211,000 workers in the O'Hare area of Chicago; just 2.2 percent of the 205,000 workers of the Love Field area of Dallas; just 3.7 percent of the 203,000 workers of Los Angeles' South Bay Corridor; and just 2.9 percent of the 374,000 jobs of the I-880/US 101 corridor in San Jose. So, to make transit work, you not only need a concentration of jobs, but the job center also has to be at the hub of a transit hub-and-spoke system.
For these reasons, Cox likes to say that transit commuting is really about downtown, meaning its almost impossible to increase transit's share of commuting outside of downtown areas. But since, in most regions, such a small percentage of workers work downtown, upping transit's share of downtown commuters will have minimal impact on the region as a whole.
The numbers in Cox's latest report can be compared with those in the previous edition, which was for the year 2000. Between the two reports, the number of jobs in downtown New York grew by 235,000–more than the size of most major downtowns. But the number declined in many other urban areas, including Austin, Baltimore, Boston, Chicago, Cleveland, Dallas, Denver, Los Angeles, Miami, Minneapolis, Phoenix, Pittsburgh, San Francisco, St. Louis, and Washington. All of these regions have rail transit, which shows that trains are no guarantee that downtowns will stay healthy.
In any case, regardless of how you feel about rail transit, downtown revitalization, or other urban issues, Cox's data are useful and informative in many ways.