Futurists have predicted driverless cars at least since 1940. A consortium including General Motors, CalTrans, and the University of California successfully demonstrated driverless cars on an urban freeway more than a decade ago. Yet here we are, in 2009, with nary a driverless car on the open road.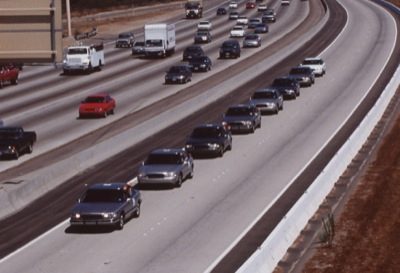 A successful 1998 driverless car demonstration placed magnets in San Diego freeway lanes. By sensing the magnets and other cars, the eight cars shown were able to drive together or individually pass one another without any problems. Some states have installed road magnets to guide snow plows on short segments of mountain roads, and UC Berkeley put magnets in one street for a driverless bus, but research in this mode has nearly stopped.
Driverless cars offer huge potential benefits over driver-operated cars. Congestion would become a thing of the past because roadway capacities would at least quadruple. Highways would be much safer and traffic could safely move at higher speeds in many places. Driverless cars would save energy, initially because they would be programmed to minimize fuel consumption and later because cars could be lighter weight because accidents would be so rare.
The obstacles to driverless cars, says General Motors vice president of research Larry Burns, are institutional, not technical. The biggest institutional problem is known as the chicken-and-egg problem: In order to have driverless cars, both the owners of the cars and the owners of the highways have to make an investment. Neither are likely to do so until the other one acts first.
The Antiplanner would like to solicit the help of both faithful allies and loyal opponents in solving this problem. I am particularly seeking solutions that require minimal government involvement yet introduce the benefits of driverless cars as fast as possible.
You can make jokes about computers crashing and so forth. But if your car was made in the last 20 or so years, it already has lots of computer processors in it, and they are probably among the most reliable parts of your car. Since each processor has a single, dedicated job, it is much less prone to error than personal computers that must deal with all of the different kinds of sometimes poorly written software users load on their machines.
There are at least two driverless paradigms. One is that highway owners put small magnets or other detectable devices in the roads. Cars would be built or retrofitted with sensors to detect those magnets. Such highways would be declared driverless and people could use them only if they have cars capable of running in driverless mode. When the driver enters a highway with such fixtures, the car goes into driverless mode. Elsewhere, the car is driven normally. California successfully demonstrated this system in 1998, but not much further work has been done on it.
General Motors co-sponsored a driverless car that won a competition for being able to negotiate an urban environment. GM VP Larry Burns says driverless cars could be available as early as 2018, and that institutional barriers, not technical ones, are the big problem.
The second paradigm, shown above, has all of the technology built into the car. The car senses the roads, other vehicles or obstructions in the roads, and traffic signals and signs. Potentially, driverless and driver-operated cars could run on the same streets and highways. While highway owners would not have to make major changes to the roads, the auto owner would have to pay more for the sensors and software to run the car.
Also, at least some of the technologies being tested involve radio contacts among vehicles. For this to work, the government needs to dedicate a portion of the radio spectrum to traffic (which the European Union has already done).
I suspect the first paradigm has a lower cost and higher benefits, partly because (again, just a suspicion) the benefits of driverless cars may be greatest if they are not integrated with driver-operated cars. But the first paradigm has the biggest chicken-and-egg problem. Other people think the second paradigm makes the most sense, partly because the cost of computer processing power is falling rapidly. The second paradigm does not have as big a chicken-and-egg problem, but state laws that require drivers to be fully in control of their cars at all times would need to be changed and, I suspect, highway owners might need to better maintain signage, stripes, etc.
Even if states change their laws and the government allocates a radio frequency to traffic control, we are not likely to see driverless cars under the second paradigm until 2020 or so (Larry Burns thinks 2018, but most people think that is optimistic). I think we can have driverless cars under the first paradigm several years earlier, but first we have to solve the chicken-and-egg problem.
I can think of two models for solving this problem. One is the HDTV model. Television stations have a limited amount of broadcast spectrum, and they used it to broadcast regular TV. To start broadcasting HDTV, a station would have to give up its regular broadcasts, which would limit its market to people who own HDTVs. But who would buy an HDTV if no stations were broadcasting it?
The stalemate was broken by the federal government, which told the television industry to come up with a new standard, gave TV stations a new part of the broadcast spectrum to send HDTV signals, and then — starting February 17 — will take the old part of the spectrum away from the stations and sell it to someone else. As a committed free-marketeer, however, I wonder if there is a solution that does not require federal mandates.
The second model is the cell phone model. Cell phone technology is rapidly advancing, and cell phones from more than a decade ago might not even work on many of today's cell networks. These advances take place because of competition among cell phone carriers as well as among manufacturers to provide phones with more and more power. The problem with applying this model to highways is that I don't see highways being privatized anytime soon, and even if they were, it is not likely that several companies could afford to own duplicate highway networks.
So my question for you: Are there any other ways for us to go from our current cars to driverless cars that might work better? Your answers will be appreciated.