Remember the Twin Cities light-rail line that was supposed to average 17 mph but, after testing, was scheduled for just 13-3/4 mph? It turns out that, in actual operation, it averages less than 12.5 mph. That means it takes 53 minutes to go from downtown Minneapolis to downtown St. Paul, 36 percent longer than the 39 minutes originally promised and more than twice as long as the 26 minutes required by a bus.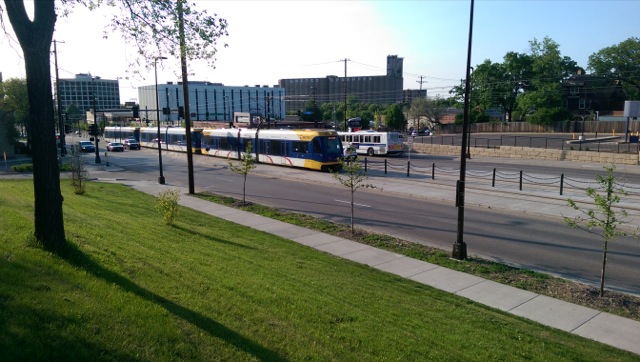 A green line train near the University of Minnesota. Flickr photo by Michael Hicks.
What's slowing the trains down? Traffic signals. Apparently, the city of St. Paul is reluctant to give the trains signal priority over all other traffic. "It is hard to rationalize a train with 300 people stopping at an intersection with no cross traffic," says Metro Transit's general manager. But it is also hard to rationalize giving the few people who ride the train priority over the thousands of people who use other modes of travel.