Hampton Roads Transit, which serves Norfolk, Virginia Beach, and Newport News, is having a difficult time. Ridership for the first seven months of fiscal 2015 (which began in July) is down 9 percent from 2013, and 2013 ridership wasn't so hot in the first place. Financial records show that the revenue per rider, at 98 cents per trip, is 8 cents more than the agency's target, but the cost per rider, at $5.41 per trip, is 73 cents less than targeted, so fares are only covering 18 percent of operating costs.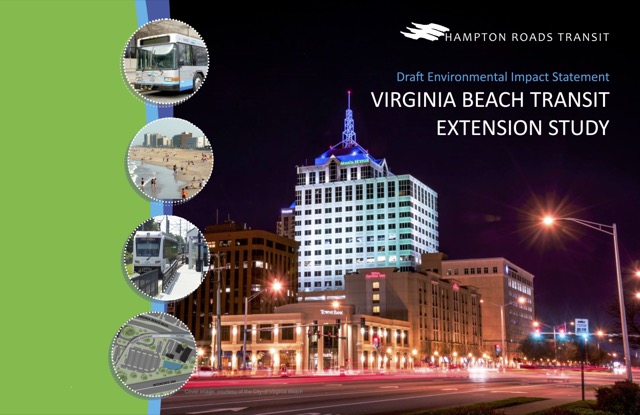 Click on the image to go to the page where you can download the draft environmental impact statement–comments due May 5.
What to do in this situation? For any transit agency, the solution is obvious: build more light rail. The region's one light-rail line opened 16 months late and cost 60 percent more than projected. It was supposed to carry 10,400 riders per weekday in its opening year; it actually carried less than 4,400. While it was up to 5,500 in 2013, the 23 percent drop in light-rail ridership so far in 2015 suggests that the average this year will be even less than in the opening year.