The city manager for Norfolk, Virginia, has been forced to resign due to allegations that she knew about light rail cost overruns but failed to inform the city council. The senior vice president for development of Norfolk's transit agency, Hampton Roads Transit, has also quit in response to allegations that her mismanagement led to the cost overruns.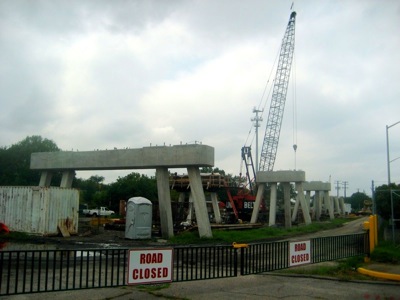 When Flickr user DearEdward took this photo in July, 2008, Hampton Roads Transit was promising to start operating Norfolk's light rail in December, 2009. Now it has postponed the opening to late in 2011.
They follow the transit agency's previous general manager, who was forced to quit a year ago when the cost overruns first came to light. Meanwhile, Hampton Roads Transit has announced that the light-rail line is not only $106 million over budget, it is at least 16 months behind schedule. The most recent scheduled date for opening the line, May 2011, has been postponed indefinitely because of delays in delivering and installing safety equipment.