During my last trip to DC, I happened to listen to a debate over a proposal to build a streetcar line in Baltimore. "People won't ride a bus," argued one of the streetcar advocates. "To attract tourists, we need to have a streetcar."
Meanwhile, within a two-block walk of the Cato Institute offices, I could find dozens of buses: charter buses in front of hotels, open-top tour buses filled with tourists, Bolt buses, two-story-high Megabuses, and many more. Most of them filled well over half their seats, except for the city buses which ran nearly empty.
Rail advocates are fond of claiming that Margaret Thatcher said, "A man who, beyond the age of 26, finds himself on a bus can count himself as a failure" — as if support from a fiscal conservative lends credence to their cause. In fact, there is no evidence Thatcher ever said this "or indeed shared the sentiment."
The truth is that intercity buses are staging a revival, attracting riders of all ages from all walks of life. They are doing so by offering services you can't get from Amtrak at much lower prices. But because they are unsubsidized, they are ignored by would-be policy makers such as the Surface Transportation Policy Commission. Moreover, accurate data on bus ridership are very hard to come by.
"Some of our members asked to be included in the National Transit Database," says Robin Phillips of the American Bus Association. "But the Federal Transit Administration says that, because they aren't subsidized, they can't be counted."
The Bureau of Transportation Statistics says that "highway buses" carried 148 billion passenger miles in 2006. This is supposed to be on top of the 23 billion passenger miles carried by transit buses. However, it turns out this is wrong.
The 148 billion comes from table VM-1 of the Federal Highway Administration's Highway Statistics. However, that table includes all buses, both transit and intercity.
Moreover, it turns out that the 148 billion is based on a pretty crude estimate. The 1983 National Personal Transportation Survey apparently estimated that the average bus carried 21.2 people. Ever since then, the Federal Highway Administration has used that multiplier to convert bus vehicle miles as estimated by the states to bus passenger miles. There have been three National Transportation Surveys since 1983, but apparently none have updated the bus number.
Three kinds of buses contribute to the 7 billion bus vehicle miles counted in Highway Statistics. First are transit buses, including fixed-route buses powered by internal combustion engines (known as "motor buses"), electric trolley buses, and demand response ("paratransit") buses. The National Transit Database says these buses travel about 2.6 billion miles a year (in 2007) and have an average of about 8 people on board when in service.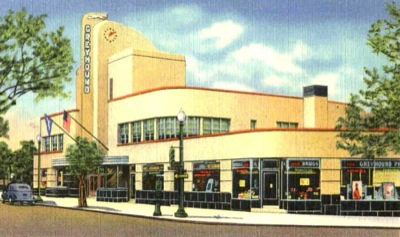 Greyhound built this art deco terminal in downtown Washington DC in 1940, and abandoned it in 1987.
Second are private bus companies, including both charter and scheduled buses. The American Bus Association's census found that more than 3,100 companies operated nearly 30,000 buses in the U.S. in 2007 (p. iv). These buses traveled around 1.6 billion miles and carried around 57 billion passenger miles, for an average of 35 passengers on board (p. v). (The ABA census included both U.S. and Canada, but I prorated the numbers by the U.S.'s share of bus numbers.)
Third are school buses. The American School Bus Council estimates that school buses traveled 5.7 billion bus miles in 2007 transporting an average of 54 students each. But most students are not on board for the entire bus trip, so we can't multiply 54 by 5.7 billion to get passenger miles.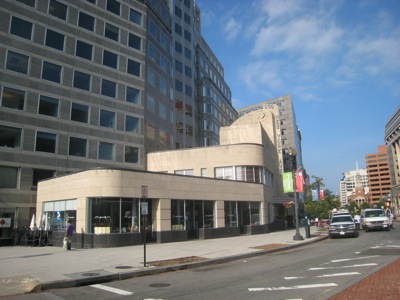 Restored in 1991, the former Greyhound terminal currently houses various shops and the foyer for the high-rise behind it.
In any case, that brings our total to 9.9 billion bus miles, some 40 percent more than the total estimated by the Federal Highway Administration. Even allowing for some overlap between the ABA, FTA, and ASBC numbers, it seems likely that someone's numbers are wrong. I suspect the FHwA's numbers have problems since they are based on estimates provided by the states, and the states in turn are basing their estimates on fuel sales without always knowing for sure who is buying the fuel.
The 57 billion billion passenger miles transported by private buses is about equal to the combined total of Amtrak's 6 billion passenger miles and public transit's 52 billion passenger miles (including buses and rail). The ABA census found that 26.5 percent of private bus service, or about 15 billion passenger miles, was scheduled intercity service. Most of the rest was charter, tour, or sightseeing buses, while about 10 percent was commuter buses (some of which may be contracted out by public agencies and thus may overlap with transit numbers) and 3.4 percent was airport shuttles.
So intercity buses carry about 2-1/2 times as many passenger miles as Amtrak. In the intermodal fantasy world of the urban planner, Amtrak provides trunk line service while buses feed into that service. (See, for example, page 6 of the Midwest Regional Rail plan.) The problem with this is it requires heavy subsidies to Amtrak to take business away from unsubsidized buses, leaving the dregs to the buses. The natural result is that the bus companies drop out of intercity service altogether, thus forcing governments to subsidize any feeder buses.
When Amtrak first formed, Greyhound and Trailways bitterly complained that the government was subsidizing its competitor. According to transportation analyst Joseph Schwinterman, intercity bus service declined steadily from 1960 to 2006. Trailways (which was never one company but an association of local bus lines) is nearly gone and Greyhound is a shadow of its former self, having been purchased by Laidlaw, a school bus company, which itself was later purchased by FirstGroup, a British transport company. The decline of scheduled intercity bus service isn't entirely due to Amtrak, but Amtrak certainly didn't help.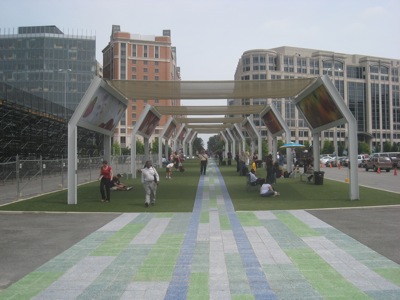 Bolt and Megabus now use this parking lot about a block from the old Greyhound terminal as their DC bus "station." The pedestrian path provides little in the way of shelter from the elements, but bus service is so frequent that no one has to wait long.
On the other hand, a new crop of companies have shown that buses can actually compete with Amtrak in some densely populated markets. As the New York Times noted last fall, and the Wall Street Journal last month, bus service in the Boston-to-Washington corridor has been reinvigorated by new low-cost carriers.
As described in this Slate article the intercity bus revival began in 1998, when a man named Pei Lin Liang started the Fung Wah ("magnificent wind") bus company and offered Boston-to-New York service for $25, half the price then charged by Greyhound. With the internet as its reservations clerk, drivers doing double duty as ticket salesmen to walk ons, and curbsides in Boston and New York serving as bus stations, Fung Wah kept its overhead low.
Fung Wah spurred a variety of competitors, temporarily pushing prices down to $10 per trip in the "bus wars" of the early 2000s. Because many of these companies served the Chinese neighborhoods of Northeastern cities, they became known as Chinatown buses, though the American Bus Association prefers a more politically correct term, "curbside buses."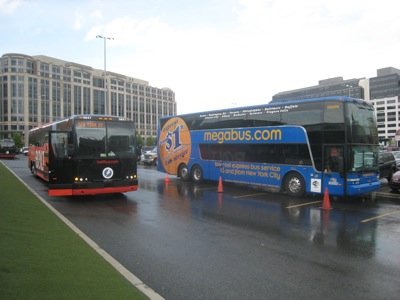 A 51-seat Bolt bus is ready to board while an 81-seat Megabus awaits its scheduled departure from the DC parking lot that serves as their terminals.
A British company called Stagecoach jumped into the market under the name Megabus, and some of their buses truly are megabuses, with two levels containing 81 seats. Megabus also competes with Amtrak between New York, Albany, and Buffalo, and has an active Midwest operation serving 17 cities in eight states.
Greyhound responded by partnering with Peter Pan Bus Lines (some history) to create Bolt Bus. Both Megabus and Bolt attracted new riders by initially offering $1-per-trip fares, and each still sells one or two seats on every trip for $1 (plus a 50 cent reservations fee).
Megabus and Bolt promise leather seats, free WiFi, electrical outlets for every seat, and more legroom than their Chinatown competitors. The typical Chinatown bus has 57 seats, and Bolt buses have only 51 to give riders 3 inches more legroom.
According to Schwinterman, intercity bus ridership has been growing at nearly 10 percent per year since 2006. "2007 became the year of the bus's comeback," Schwinterman told the New York Times, with "an explosion of new carriers" in the West, Midwest, and Northeast. A map of all of these new bus services would closely resemble the FRA high-speed rail map.
It is curious that so many of these new carriers are owned by either immigrant Chinese or British companies. The Chinese, of course, are well known for their entrepreneurial culture. Britain privatized much of its transit and deregulated intercity transportation in the 1980s, which perhaps makes British companies better tuned to competitive travel markets.
I've probably missed a few, but I've identified 14 companies directly competing with Amtrak in the Northeast Corridor, including Apex, Bolt, Boston Deluxe, DC2NY, Eastern Travel, Fung Wah, Greyhound, Lucky Star, Megabus, MVP, New Century, Peter Pan, Washington Deluxe, and Vamoose. Although schedules vary by day of the week, these companies offer an average of 160 trips per day each way between New York and Washington, 117 trips between New York and Boston, 82 trips between New York and Philadelphia, 64 between New York and Baltimore, 88 between Washington and Philadelphia, and at least 11 more between New York and other cities in the corridor including Providence, Richmond, and Norfolk (Amtrak's definition of the NE Corridor extends to Newport News, Virginia). This doesn't count services to cities that are not in Amtrak's Northeast Corridor, such as Hartford and Albany. Most of these buses are non stop, which helps make up for slower top speeds than Amtrak.
Assuming an average of 54 seats per bus, this means the various companies provide about 3.4 billion seat-miles of service. Data provided by Bolt and Megabus suggest they typically fill 50 to 67 percent of their seats, and ABA says the Chinatown buses do even better. That means buses are carrying at least 2 billion passenger miles per year in the Northeast Corridor, compared with less than 1.8 billion on Amtrak (calculated from page C-1 of Amtrak's F.Y. 2008 performance report).
Amtrak brags that it has about half the air-rail market between Boston and Washington (which some people carelessly report as half the total travel market). But when buses are added, Amtrak's share declines to less than a third. Adding cars probably pushes it to around 10 percent.
There is probably room for both trains and buses in the Northeast Corridor. Amtrak claims that in 2008 its Boston-to-Washington trains covered their operating costs, though not depreciation and interest. Other Amtrak corridor trains cost taxpayers around 7 cents per passenger mile, and more when depreciation and interest are counted, while Amtrak's long-distance trains cost at least 18.5 cents per passenger mile.
Forced to follow politically determined routes and schedules, public transit buses are some of the least energy-efficient motor vehicles in the U.S. (Streetcars and ferryboats are worse.) But when run by private operators who have an incentive to fill them up, buses are much more energy-efficient than government-run trains.
A study for the American Bus Association found that the average private bus uses 750 BTUs per passenger mile, compared with 2,100 for Amtrak's intercity trains. Amtrak's Northeast Corridor is probably more energy-efficient than its other trains, but not as energy-efficient as buses. In 2008, Amtrak filled only 52 percent of the seats on its Boston-to-Washington trains and only 44 percent on its other corridor trains.
In short, buses can and do carry more people than Amtrak at a lower financial and environmental cost without subsidies. All of this makes it hard to justify subsidies to Amtrak, much less high-speed rail.