Twenty-two subway lines enter downtown (south of 60th street) Manhattan. According to the Metropolitan Transportation Council (New York's MPO), these subway lines carried some 400,000 people into downtown between 8 and 9 am on a typical day in 2007 (open the "rec sec" sheet of the Subway data sheet).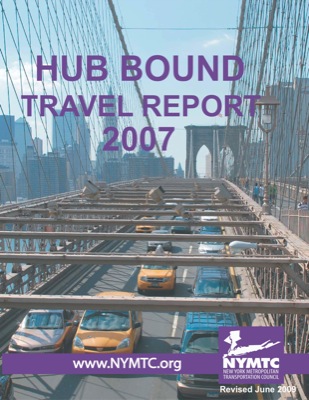 A blogger asks, "what would it take in terms of auto facilities to replace the morning rush hour carrying capacity of the NYC subway?" He concludes it would take a minimum of 167 new lanes of bridges, tunnels, or other highways into downtown Manhattan. But there are several alternative views of his calculations.
He assumes that the only alternative to subways is autos. But what about buses? Many 40-foot buses can carry 64 passengers (42 sitting, 22 standing, which means a higher proportion sitting than on a subway). Spaced five bus lengths apart, 11 buses per minute can cruise down a highway lane carrying more than 42,000 people per hour. That means fewer than 10 new lanes would be needed to carry the people now taking subways — and those 10 lanes would take up a lot less space than the 22 subway lines.
This can be further reduced by assuming that some people will time shift. During the 8 to 9 am hour, the average subway car carries 108 people, but in the afternoon peak hour the average subway car carries only 87 people. If some of the 108 people in that morning hour time shifted to the 7 or 9 am hour, then even fewer bus lanes would be needed to carry people into Manhattan.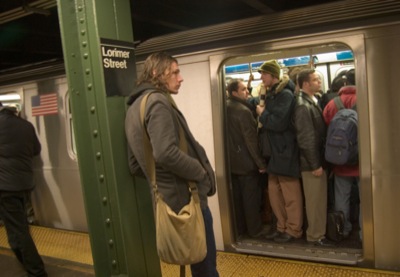 Isn't Manhattan lucky to have subways like this at 8:30 in the morning?
Flickr photo by Runs with Scissors.
Buses cost a lot less than subways. The National Transit Database reports that New York subways cost taxpayers $1.36 per passenger trip in 2007, which is lower than most U.S. transit services. But this doesn't count the billions of dollars of maintenance that the subway needs. The Federal Transportation Administration's analysis of maintenance needs in New York and five other cities found a $50 billion backlog — three-quarters of which was for heavy rail (subways & elevateds) and a large but unspecified portion of which was in New York.
MTA's public transit buses in New York City cost taxpayers an average of $1.76 per trip. But those buses are in the city. Many of the private commuter bus companies that bring people in from outside the city actually make money. Even New Jersey Transit collects more fares from bus riders than it spends operating its buses.
And then there is parking. The blogger presumes that all the autos that would replace subways would require parking lots. Hasn't he ever heard of parking garages?
If there were no federal subsidies to New York City transit, it is possible that the subways would decline and not be entirely replaced by buses. If so, downtown Manhattan might lose some of its allure as a job center. Would that be so horrible? A lower-density Manhattan might have had less attraction as a terrorist target. It would save taxpayers money. And people would get to their work faster, as (thanks largely to its high proportion of transit commuters) New York has the longest average commuter times of any urban area in the nation.
It sounds to me like getting rid of the subway might benefit everyone except, of course, downtown property owners. And that is really what rail transit is all about: transferring wealth from millions of ordinary taxpayers to a few downtown property owners, rail contractors, and transit agency officials and employees.