At the risk of premature judgment, it appears the Angora fire that destroyed hundreds of Lake Tahoe homes will provide a classic example of what is wrong with federal wildland fire policy. As of Tuesday evening, the fire has burned more than 3,000 acres, and managed to destroy more than 200 homes and scores of other structures. (Get the latest official report here.)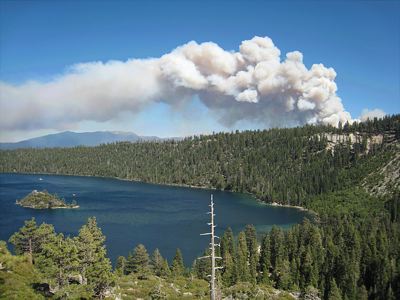 The Angora Fire on Sunday.
Flickr photo by Steve Wilhelm.
As those who have read my most recent fire paper know, the standard story is that a century of fire suppression has led to a build-up of fuels in the forests. The standard solution is to allow the Forest Service and other agencies to spend close to half a billion dollars a year on fuel treatments.
Some people are already blaming the fire on environmentalists who supposedly delayed fuel treatment projects. Yet the fire itself started in an area that had received fuel treatments, and a local official says "there has been a very, very aggressive strategy in terms of forest fuels reduction in this area."
So why did the fire burn so many homes? One of the many flaws in the standard story is the assumption that treating fuels on public lands will stop large fires and protect homes. A document the Forest Service recently gave to Congress says, "While wildland fire is an element of natural ecosystem processes, catastrophic wildland fire is not."
This is flat-out wrong. In fact, catastrophic fires are natural part of the landscape in most of the West. All the hazardous fuel treatments in the world won't stop fires when the woods become dry enough.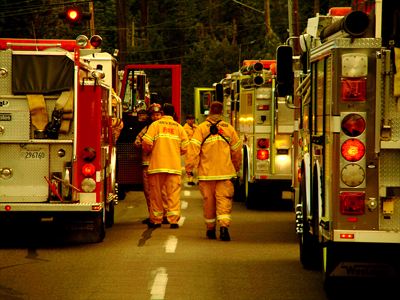 Firefighters going to work on the Angora fire.
Flickr photo by TahoeSunsets.
Instead of treating tens of millions of acres of public lands, we need to treat only a few million acres of mostly private lands around homes and other structures. Buildings need to have nonflammable roofs, and the landscaping within 100 to 150 feet of the buildings needs to be clear of shrubs, low-hanging branches, and other flammable materials. Well-trimmed lawns are okay. Making homes firewise will protect 85 to 95 percent of homes from the worst fires.
Forest Service researcher Jack Cohen says homes will catch fire only when one of two things happens: Either a firebrand lands on a flammable roof or the radiant heat from burning wood and vegetation ignites the walls of a house. This radiant heat can only reach ignition temperatures if the source is less than 130 feet away.
From news photos of the burned homes, it is hard to tell what roofing materials were used, but it is painfully obvious that homeowners left lots of flammable vegetation within 150 feet of their houses.
From personal experience, I know people are often reluctant to trim trees and cut down shrubs near their forest homes. They feel like this will ruin the "wilderness experience" that they paid so much for. They sometimes end up getting more wild, as in wildfire, than they really wanted.
The Forest Service thinks that, because it treated acres on national forests around Lake Tahoe, it was "targeting" high-risk areas. But the efforts should have gone instead into treating the land around the private homes and cabins.
Take a look, for example, at this former home, which was for sale. Now look at this house, which was for sale before the fire. It is not the same house and it may not have been in the area of the fire. But if there had been a fire in the vicinity of this home, it would have burned to the ground like the other one.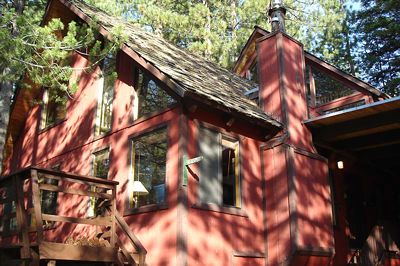 Click on the photo to see more and larger pictures of this high-risk home.
This house would be a goner for sure: it has a shake roof (most other Tahoe homeowners have switched to composition roofs) and low-hanging tree branches brushing right up against the sides of the house.
Going through the South Lake Tahoe real-estate listings, it is hard to find many that are truly fire safe. Certainly this one and this one as well. But these aren't in the forest.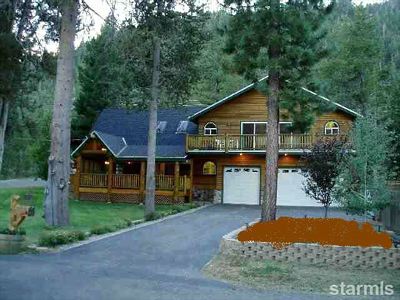 Click on the photo to see more and larger pictures of this fire-safe home.
The forest home above looks pretty safe, but I am dubious about a lot of the others. One problem is that many lots are too small for the homeowner to be able to control 130 feet around all structures. If the neighboring landowner is not willing to control vegetation, or — even worse — if a neighboring home is less than 130 feet away and it catches fire — then the first homeowner might be helpless.
Whose is responsible for the destruction of these homes? The Forest Service wants to take the blame so Congress will give it more money. I would blame the homeowners. In the Tahoe area, I understand that the Tahoe Regional Planning Agency advised many homeowners to make their homes firewise, but was often ignored.
But I am not convinced that government regulation is necessary. Most homeowners, of course, have fire insurance. The insurance industry used to rely on the Forest Service to protect homes and did not make any efforts to require homeowners to make their homes fire safe. That is changing.
Allstate says it will no longer insure new homes in California due to fire and earthquake hazards. Other companies have given their customers ultimatums: fireproof it or lose your insurance. As this becomes the norm rather than the exception, much of the problem is going to go away.
Meanwhile, the Forest Service will do what it always does: try to use the loss of these homes as an argument for more fire money. I like to say that the Forest Service needs a sustained yield of homes burned each year to persuade Congress to give it ever-increasing amounts of fire money. I don't really think anyone in the agency is that cynical, but it has adopted a policy that will both yield it huge tax subsidies and fail to prevent houses from burning.
What should be done instead?
Encourage all homeowners near federal lands to make their properties firewise.
Let insurance companies and homeowners know that public land and fire agencies won't put firefighter lives on the line to protect homes that haven't been made firewise.
Allow more fires to just burn (so far this year, public agencies have only allowed 46 out of 45,000 fires to burn — that's 0.1 percent).
And decentralize fire budgeting and decisionmaking so that local managers will respond to local conditions, not to politically driven priorities that may make no sense thousands of miles from Washington DC.