At one of the Antiplanner's presentations in Houston, a member of the audience representing the Citizens' Transportation Coalition propsed that Houston's light rail was a success. I asked how he defined "success," and his answer seemed to indicate that the fact that it carried lots of riders made it a success.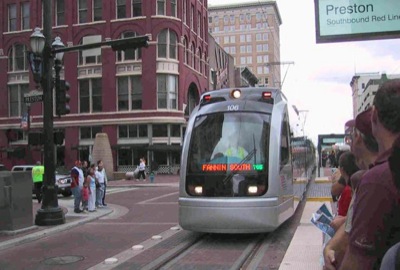 Wikipedia says Houston's light rail carries the second-most passengers per route mile of any light-rail line in the country. But many of these trips are short — the average trip is 2.4 miles compared with a national light-rail average of 4.6. Also, Houston's light-rail line is in the inner city and does not yet reach suburbs where ridership will be light. When measured on a passenger-miles per route mile basis, Houston's is eighth highest, with Los Angeles' light rail carrying more than 50 percent more passenger miles per mile.
The real issue, however, is not how well light rail does by itself but by what it does for — or to — transit as a whole. Rail's high cost often leads transit agencies to neglect bus service, resulting in ridership declines across the region. To see if this has happened in Houston, I downloaded data from the National Transit Database (scroll down to "Profiles," enter "6008" in the search box, and click "Search). These data are provided by Houston Metro and other transit agencies to the Federal Transit Administration.
I learned that, before light-rail construction began, Houston's transit ridership was growing very fast. Between 1996 and 2001, ridership grew at 4.4 percent per year and passenger miles grew at 8.4 percent per year. The faster growth in passenger miles suggests that Metro was making improvements that made buses more convenient for long trips.
Light rail construction began in 2001, and ridership immediately dropped in 2002. By 2005, the first full year of light-rail operation, it had fallen 7.5 percent. While it recovered to its 2001 level in 2006, if it had grown by 4 percent per year, it would have been 21 percent greater. Ridership fell again in 2007, a year in which many other transit agencies saw increases due to high fuel prices.
Transit agencies measure one trip every time someone boards a bus or railcar. When Metro opened Houston's light rail, it terminated formerly downtown bus routes at light-rail stations, forcing many people to transfer. So trips may overestimate the actual effects of light rail on ridership.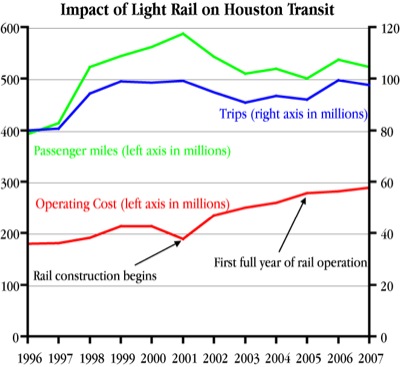 Click to download a spreadsheet with the data and a larger image.
Sure enough, light rail had an even more devastating effect on passenger miles. By 2006, passenger miles were nearly 9 percent less than in 2001. Remember, they had been growing by more than 8 percent per year. If they had continued growing at a mere 5 percent per year, by 2006 they would have been 40 percent greater than they actually were.
One reason for ridership declines is that Metro raised bus fares by about 10 percent to help pay the $300 million cost of building light rail. Yet average light rail fares are far less than bus revenues, being about 32 cents vs. 57 cents in 2007. This is no doubt because many people do not bother to pay fares given the honor system that is used for light rail.
Between '01 and '06, Metro also reduced bus service (measured in vehicle revenue miles) by about 9 percent (and another 1.5 percent in 2007). But this did not save money, as bus operating costs were 42 percent greater in 2006 than they had been in 2001. Add in light rail operating costs, and total operating costs were 49 percent greater (and 52 percent greater in 2007).
In short, for a $300 million capital cost, light rail significantly increased the costs of operating Houston transit while it killed the growth in transit ridership and significantly reduced passenger miles. If you are an empire-building bureaucrat, transit employee seeking higher pay, or rail contractor, then you would probably consider Houston's light rail to be a success. From the point of view of taxpayers and transit riders, if this is a success then I would hate to see a failure.