The somewhat tongue-in-cheek movie review earlier this week reminds me of one of my favorite movies. Not many people realize that North by Northwest was actually based on a true story, though of course Hitchcock changed many of the details to make his action/adventure movie.
As cinemaphiles will remember, Cary Grant plays Roger O Thornhill, a man who makes prominent use of the fact that his initials are ROT. In the course of fighting evil government agents, ROT takes a ride on the Twentieth Century Limited, the famous train from New York to Chicago. There he hooks up with Eve Kendall, a blonde woman played by Eva Marie Saint, with whom he has numerous adventures in Chicago, Mt. Rushmore National Monument, and elsewhere. Tension is increased by ROT's uncertainty about who is really evil and who is good, especially when it appears that Kendall already has a boyfriend. In the end, however, the evil government agents get their just desserts, ROT gets the girl, and (as shown by the closing credits) they end up on a train in California.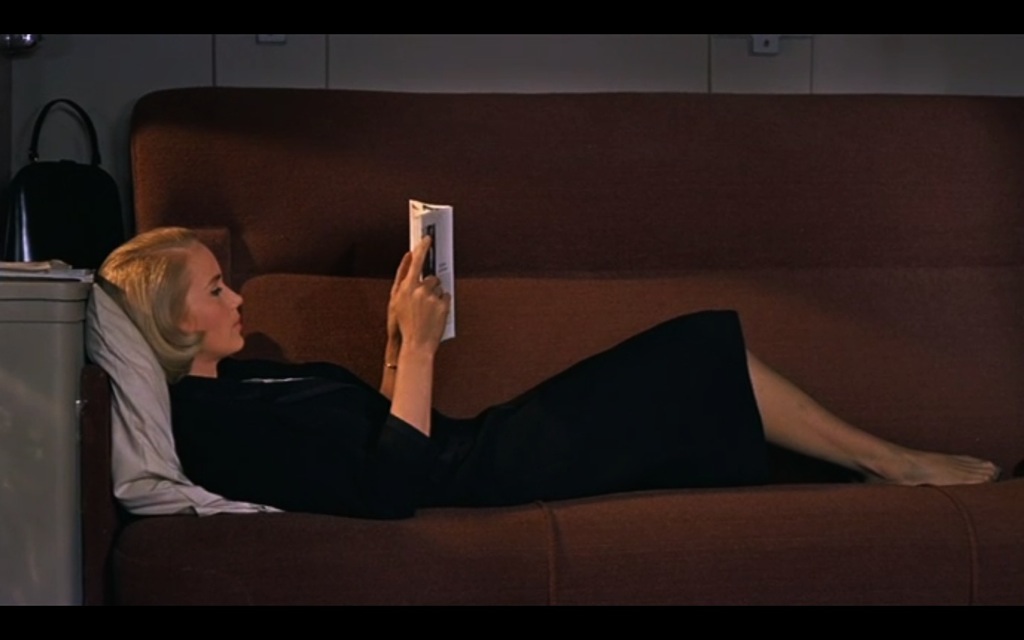 Eva Marie Saint as Eve Kendall on the Twentieth Century Limited.
The real story wasn't quite as breathtaking, but still pretty exciting. On December 29, 1978–exactly 32 years ago today–the Antiplanner, also known by his initials ROT, got off the Broadway Limited (at one time a direct competitor to the Twentieth Century Limited) in Chicago and boarded the San Francisco Zephyr on a journey from Washington to Portland. Another passenger making the same change of trains was Miss Vickie, a strawberry blonde on her journey from New York to Portland. As the New York and Washington sections of the Broadway did not join until late at night in Harrisburg, I didn't actually meet Miss Vickie until we were on the Zephyr.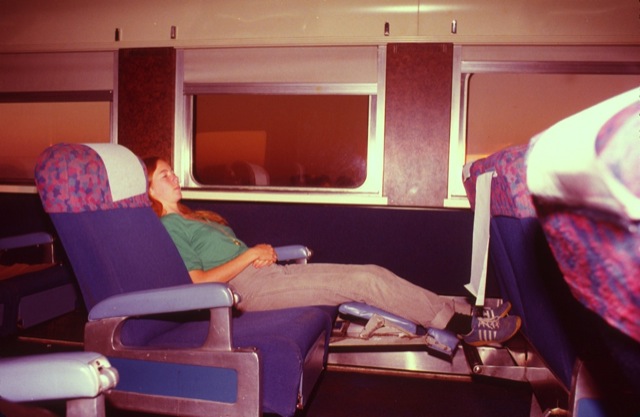 Miss Vickie on the Broadway Limited.
I was in the middle of an investigation of what I thought were evil government agents who were trying to cut Amtrak's budget. At the time, I idealistically believed that passenger trains were a good thing and they deserved as much government support as highways or airlines. But, under Jimmy Carter, the Department of Transportation proposed to cut a number of Amtrak's trains. I decided to spend 49 days riding Amtrak and Canadian trains to learn what was good and bad about government-run trains.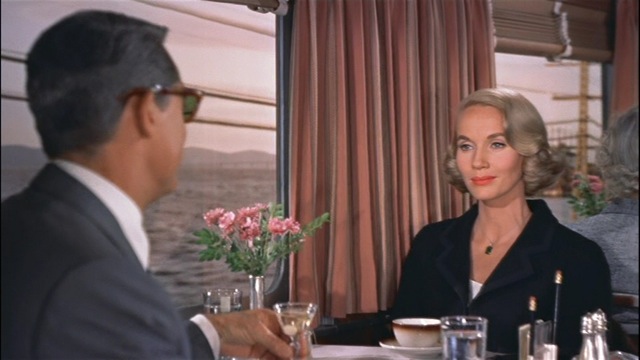 Eve, who is actually a government agent, pretends to be enthralled by ROT on the Twentieth Century Limited.
After I found a seat on the San Francisco Zephyr, I walked through the train and discovered Miss Vickie sitting by herself in another car. In my suave, Cary-Grant-like style, I introduced myself saying, "The heat isn't working on my car; do you mind if I sit next to you?" While perhaps not as debonair as Grant, this was entirely believable given the state of Amtrak's aging and poorly maintained equipment.
Miss Vickie was my constant companion for the next couple of days as I attempted to unravel the truth of who was responsible for Amtrak's poor performance. (Ironically, we were both scheduled to be on another train out of Chicago, but were bumped to the Zephyr when the Broadway was several hours late.) Sadly, however, she had a boyfriend, and it was with a pang that I saw him greet her with a kiss and take her away on our arrival in Portland.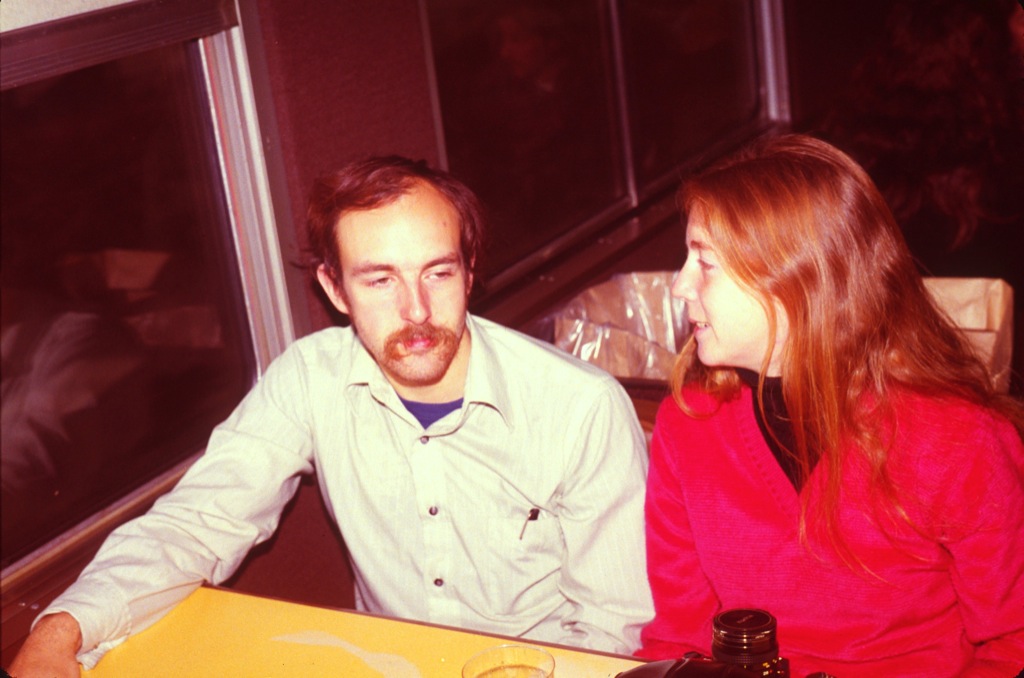 Miss Vickie, who is not a government agent, pretends to be enthralled by ROT's ideas on Amtrak on the San Francisco Zephyr. Many years later, she admitted she wasn't interested in Amtrak; she was just interested in me.
Several weeks later, I was in hiding, frantically typing up my report on Amtrak–which was to be the lead story in Portland's Willamette Week newspaper and would also be reprinted by papers in Chicago, Denver, and Madison–when I was surprised to get a phone call. "I met you once," a woman said, "and want to help you on your Amtrak project." "Did I meet you on a train?" I asked. Yes. "Was it the San Francisco Zephyr?" Yes. "Can you type?" Yes. Soon, Miss Vickie–who had managed to track me down even though she couldn't remember my name–was helping me polish up the final version of the lengthy article which, including a few photos, ended up filling four full pages of newsprint.
Within a few months, the boyfriend was history and Miss Vickie and the Antiplanner were fighting evil government agencies together. It is difficult to pin down a date, so I've always considered December 29 to be our anniversary.
A year or so later, Miss Vickie and I went to Washington, DC to continue working on Amtrak. In the meantime, President Carter made Portland Mayor Neil Goldschmidt his new Secretary of Transportation. Since I knew Goldschmidt was a supporter of public transportation, I called his office hoping he would end the administration's war on Amtrak.
Imagine my dismay when one of Goldschmidt's staff members told me that Goldschmidt was behind the move to cut Amtrak's budget because Amtrak wasn't a part of the Department of Transportation. Goldschmidt figured that DOT would win most if not all the dollars taken from Amtrak. In other words, Amtrak was simply a victim of interservice rivalry. This taught me an important lesson about government: budget trumps ideals. It also showed, as Grant learned in the movie, that you never know who the real evil government agents are.
Miss Vickie and I haven't made it to Mount Rushmore since then, but we've been to many other national parks and national forests. Over the years, we've both come to learn that "evil government" is a redundant phrase, so I've joined Joseph Vranich and other former Amtrak supporters who now believe the best way to save passenger trains is to eliminate Amtrak.
Some people may ask how it is possible that a movie made in 1959 could be based on events that took place in 1977. All I can say is that Alfred Hitchcock was ahead of his time in more ways than one.