Someone named Marc Fasteau urges the United States to adopt an industrial policy. Because, after all, it worked so well in Japan (two lost decades of nearly zero economic growth), China (rapid growth but rampant corruption), and Germany (which has fined one of its biggest manufacturers more than $1.5 billion for bribing local officials to sell its products).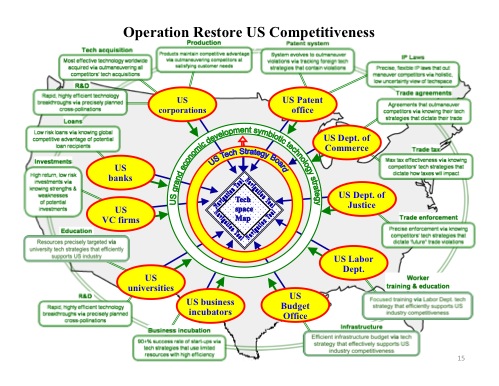 Fasteau's column is accompanied by the above mindbogglingly complex (and almost unreadable) chart showing how five federal departments or agencies would work with banks and corporations to create a US Tech Strategy Board that would engage in a "technology based planning system." This system would be sure to bring the rapid pace of technological advancement in computing, biotech, and other fields to a near standstill. The board would no doubt endorse high-speed rail, minicomputers, composting toilets, and other "modern" technologies.
Back in the '80s, everyone was talking about the need for an industrial policy because "rising sun" Japan seemed to be taking over the world. Hardly anyone except Fasteau is naive enough to point to Japan anymore; we now know that many of the policies promoted by the famous Ministry of International Trade and Industry (MITI) turned out to be disasters, while many of Japans biggest successes (such as Honda automobiles) were resisted by the ministry.
The basic assumption behind an industrial policy is that government is better at picking winners than the market. The reality is that government usually ends up propping up losers because the losers tend to be big, older companies with more political muscle than the smaller, younger companies that are growing to replace them. Twenty years ago, hardly anyone was willing to pick Apple as a winner; now it is the world's largest company by market value.
Yes, China is doing great right now, but it is easy to do great when you start from such a low point and give people economic freedom. The industrial policies adopted by China and other countries put more roadblocks in the way of entrepreneurs than they provide assistance to economic growth. In China, those roadblocks may be nothing compared with the stifling collectivist economy that preceded Deng Xiaoping, but adding them to a relatively free economy like ours will do no good at all.
A system in which government and corporations work together to plan the economy will inevitably result in a significant loss of personal freedom if only because the major sources of investment money will be more responsive to political power than to actually commercial feasibility. It is hard to imagine why supposedly Progressive people think giving corporations even closer ties to government is a good thing. Let's hope no one takes this proposal seriously.