Sellwood Bridge is falling down
falling down, falling down
Sellwood Bridge is falling down
My unfair planners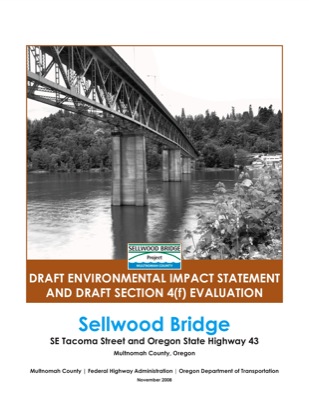 Portland has finally issued a draft environmental impact statement (DEIS) for Sellwood Bridge, Portland's oldest and most hazardous bridge over the Willamette River. Not only is the DEIS about six years late, it is a mish-mosh of confusing alternatives that allow planners to manipulate the public to get what they want rather than what the public needs.
Sellwood Bridge is one of ten auto crossings of the Willamette River in Portland. Built in 1925 (partly from remnants of a nineteenth-century bridge), it carries over 30,000 vehicles a day and is reputedly the busiest two-lane bridge in Oregon. Every other Willamette River auto bridge has at least four lanes.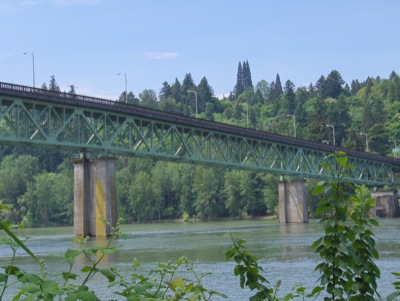 Flickr photo by staceyboo2.
Engineers have known that Sellwood Bridge is falling down at least since 2001, when they banned bus and truck traffic. Currently, they inspect it every three months to monitor deterioration of concrete and steel.
The other hazardous part about the Sellwood Bridge is that it is very narrow. The lanes are narrow and the sidewalk is not only narrow, it is only on one side of the bridge. This makes driving across it an adventure and cycling across it a real stomach-churner. When I've cycled across it, I usually go in the road, not on the sidewalk, which I am sure that has annoyed some auto drivers.
Flickr photo by BikePortland.org.
Sellwood Bridge is one of the principal connections from downtown Portland to Milwaukie and Oak Grove (which are in Clackamas County), not to mention the southern part of Southeast Portland (mostly in Multnomah County). The bridge doesn't get much pedestrian traffic because there is really nothing within walking distance on the west side of the bridge other than highway 43, a busy road between Lake Oswego and Portland. Highway 43 has four lanes north of the Sellwood Bridge.
The east side, however, is the old district (and one-time independent city) of Sellwood, one of Portland's "revitalized" and "walkable" neighborhoods. A safe bridge would probably attract cyclists going to downtown Portland. But residents of this neighborhood resent the auto traffic generated by the Bridge. "We're not interested in becoming a freeway for Clackamas County," says one resident.
Although the city of Portland can spend $90 million on a streetcar line that doesn't come close to carrying as much traffic as the Sellwood Bridge, it can ignore the plight of the Sellwood Bridge because of it doesn't own it. Instead, like the Broadway, Burnside, Hawthorne, and Morrison bridges, Sellwood is owned by Multnomah County, which has claimed it doesn't have the money to replace it. Metro, which distributes transportation funds to all Portland-area jurisdictions, hasn't been very enthused about replacing Sellwood either.
In 2005, Bechtel offered to replace the bridge, presumably in exchange for the rights to toll it for a period of years. Metro said it wasn't interested. If it had taken up Bechtel on its offer, the new bridge would be done by 2010. As it is, they will be lucky to have a plan ready by 2010.
After considering hundreds of different alternatives, planners narrowed them down to five that are in the draft EIS.
Alternative A rehabilitates the bridge and builds an entirely new bridge nearby solely for cyclists and pedestrians.
Alternative B rehabilitates the bridge and adds a wide bike/pedestrian lane on one side.
Alternative C builds a new three-lane bridge — two eastbound and one westbound — on the site of the existing bridge with a lower deck for bikes and pedestrians.
Alternative D builds a new two-lane bridge on the site of the existing bridge with wide sidewalks and bike lanes.
Alternative E builds a new four-lane bridge (two of which are dedicated to transit) south of the existing bridge with wide sidewalks and bike lanes.
These alternatives are confusing because they are really dealing with at least four discrete decisions. First, should they build a new bridge or rehabilitate the old one? Second, if they build a new one, should be on the site of the existing bridge or on a different alignment? And third, should a new bridge use the same rather boring design as the existing bridge or should it use a glorious arch of some kind? Last and most important, how wide should the bridge be and how should that width be allocated to cars, transit, and bikes/pedestrians?
Should they build a new bridge or rehabilitate the old one? The DEIS projects that the costs of rehabilitating the old bridge (alternatives A and B) are around $325 to $331 million, while building a new bridge (alternatives C, D, and E) range from $280 to $293 million. So rehab seems to be out of the question.
Should they build on the site of the existing bridge or on a different alignment? The DEIS says that building on the site of the existing bridge means closing the bridge to traffic for 2 to 3-1/2 years. The resulting detours and delays would cost the public some $70 to $130 million. Since building on the new alignment doesn't cost more than on the existing one, this seems to be a no-brainer too. However, the DEIS notes that the one new alignment it considers "crosses a designated view corridor." No doubt the existing bridge would be a "view corridor" if there weren't already a bridge there.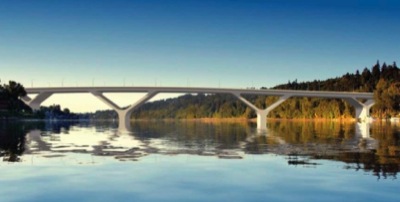 Three-lane delta-frame bridge: $280 million.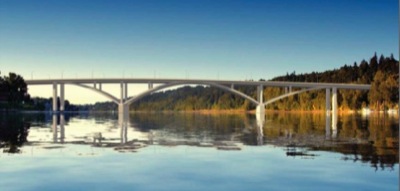 Three-lane deck-arch bridge: $311 million.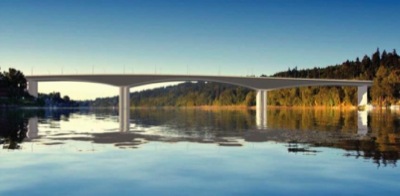 Four-lane box-girder bridge: $281 million.
Four-lane through-arch bridge: $361 million.
Should the structure be boring or beautiful? The DEIS says a four-lane box-girder bridge (which is what the current bridge is) would cost $281 million. A through-arch bridge would increase the price by $80 million. A deck-arch bridge might be only $30 million more, but that is the price for a three-lane bridge. If Sellwood residents want a bridge that is more beautiful than the one they have now, they should pay the $30 to $80 million themselves.
Finally, how many lanes should they build and who should get to use them? Alternative C is the only alternative that considers adding more capacity for autos, and then only in one direction. However, the DEIS says that "more than two through lanes on bridge" is "inconsistent with South Willamette River Crossing Study." In other words, the decision has already been made that auto drivers won't see any congestion relief.
Interestingly, alternative E, which is for four lanes (two of which are for transit) on a new alignment, costs only $1 million more than alternative C, a three-lane bridge on the existing alignment. There is no way that dedicating two lanes to transit makes sense; buses (which carry only about 1 percent of Portland-area passenger travel) just aren't going to move anywhere near as many people as cars (which carry more than 90 percent). So alternative E shows that it is possible to have a four-lane auto bridge with plenty of room for bikes and pedestrians at a relatively low cost.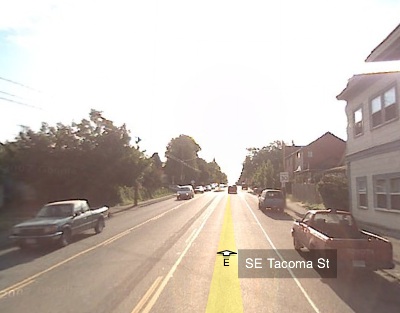 The problem with building a four-lane bridge is that Tacoma Street, the eastside access, currently only has two lanes. However, as the above photo from Google maps shows, just east of 6th Avenue, Tacoma has a continuous left-turn lane and a parking strip. Although the lane configurations change, the right-of-way is the same width all the way to highway 99 (McLoughlin), the principal north-south highway on the east side. So Tacoma could be turned into a four-lane street without taking any private property. Bikes could be routed on the parallel Spokane or Tenino streets. The main cost would be a loss of street-front parking for some businesses.
According to page ES-8 of the DEIS, one of the reasons to build a new bridge is that "travel demands exceed available capacity." Since that is true, and since 90 percent of travel is by auto, it doesn't make much sense to spend close to $300 million building a bridge that has no more auto capacity.
Of course, nothing in Oregon makes sense. The state long ago decided that it didn't want any new highway capacity even though the population has grown by about 50 percent since the last major new highway (Interstate 205) was built and is expected to grow another 50 percent in the next 40 or so years.
In sum, the alternatives in the DEIS are confusing because they don't really reveal that several discrete and independent decisions are being made or what the costs of those decisions will be. Moreover, it appears that the most important decision — whether or not to add new auto capacity — has already been made and so those who want new capacity (mainly those who actually drive across the bridge every day) are being left out.
Based on the information in the DEIS, the most efficient solution appears to be to build a box-girder bridge with four lanes open to both autos and transit, plus wide pedestrian-bikeways, on a new alignment that feeds into a Tacoma Street that is restriped to four lanes. But planners seem to be biased against that solution.
Comments on the Sellwood Bridge DEIS are due on December 22.