A review of this 2014 book on Amazon says, "Hirt explains that in the early 20th century, pro-zoning interests argued that zoning was a means of increasing homeowners' property values and excluding lower socio-economic classes." Since that's not far from one of the conclusions of American Nightmare, I was intrigued to see if she followed the same line of reasoning as the Antiplanner or reached that conclusion from a different direction.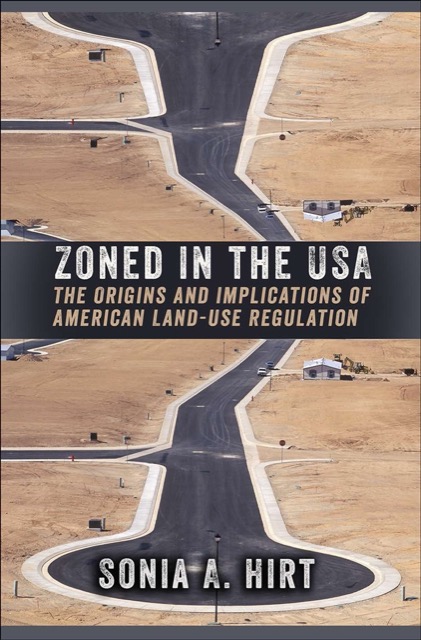 Click image to go to the book publisher's web page for this book. Click the link above ("2014 book") to buy this book from Abehbooks.com.
It turns out the reviewer was wrong; Hirt briefly quotes others who argue that zoning "serves as a local immigration law that protects the rich from the poor" (p. 45), but it is hardly the focus of her book. Instead, her main question as an immigrant from eastern Europe herself is: why do Americans zone for such low densities and a separation of residential from other uses when Europeans seem perfectly happy living above stores and across the street from amusement parks? She also correctly observes that, relative to the rest of the developed world, Americans have moderate homeownership rates but high rates of single-family detached housing (p. 20), and wonders why this is the case as well.