In a misguided attempt to find a climate that would help him recover from the tuberculosis that would kill him the following year, Henry David Thoreau visited St. Paul, Minnesota, in 1861. It would not be surprising if, while in St. Paul, Henry encountered an earnest young man working in the shipping business.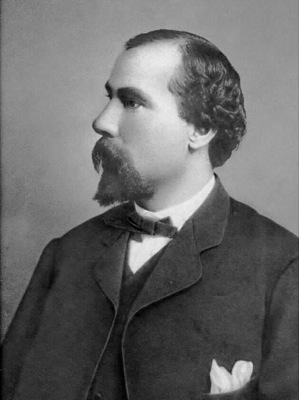 James J. Hill in 1864.
Born in 1838 in what was then called Upper Canada about 50 miles from Toronto, James Hill (he himself added the middle name, Jerome) "took a notion to go" to St. Paul in 1857. Though his schooling had ended at age 14 when his father died, he quickly advanced in the shipping business as a clerk, bookkeeper, and manager.
Due to the waterfalls of St. Anthony, St. Paul was the head of navigation on the Mississippi River, so freight had to be transfered between steamboats and wagons and, later, trains. In 1866, Hill built a warehouse on the Mississippi that greatly eased such transfers. By 1872, he was a partner to Norman Kittson–his elder by 24 years–in a steamboat monopoly on the upper Mississippi and also had a local monopoly in the anthracite coal business.