When the light-rail line in Norfolk, Virginia, went nearly 50 percent over its projected cost, the general manager of Hampton Roads Transit resigned in disgrace–but they gave him $300,000 in severance pay. Now documents have come to light that agency officials knew the line was going to cost more than their published projections but kept the true cost secret from the public and the Federal Transit Administration when they were seeking funding for the project.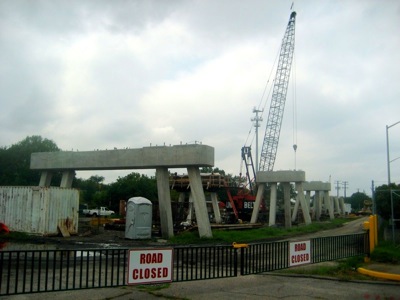 Norfolk light rail under construction.
Flickr photo by DearEdward.
On top of that, the state has found that the transit agency broke contracting and bidding laws when it gave contracts to favored consultants and "preferred individuals"–no doubt ones who would low-ball the cost estimates and not reveal the true costs until construction was well underway. The transit agency's current CEO is talking about bringing criminal charges against the now-departed officials who were in charge when the line was being planned.