The latest report on Washington, DC's new streetcar is that it goes somewhat faster than reported last week. On the opening day, a typical run took 29 minutes from one end of the two-mile line to the other. (My report last week said the route was 2.2 miles, but the extra 0.2 miles is non-revenue track to a maintenance facility.)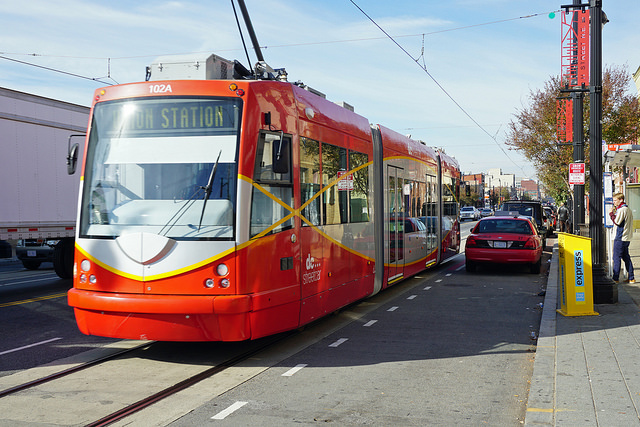 This photo shows one reason why the H Street streetcar is such a safety hazard: any automobile that is slightly over the white line gets crinkled. Flickr photo by Mariordo59.
The early trips were probably slowed by people wanting to get free opening day rides. During its first week, trips averaged 18 or 19 minutes and the fastest trip recorded by the Washington Post was 17 minutes 9 seconds. That's almost 7.0 miles per hour. While that's faster than most people can walk, several DC runners managed to beat it last Saturday.
Moreover, the streetcars only go every 15 minutes, mainly because the DC government let their streetcars rust outdoors while it took several years to build the line, and so they don't have as many cars as they planned to use on this route. That means that, on average, people will end up waiting something like seven minutes to catch a car. Adding that to the time reduces the average speed to something like 5 miles per hour.
The Post also helpfully reported that anyone who wants to take the streetcar will find "easy and convenient rides on mostly empty cars." No wonder: buses are faster and actually go somewhere.
For example, the west end of the streetcar line is near, but not at, Union Station. The reason for this, the Post observes, is that "the officials who control Union Station didn't want the streetcar to pull in too close to the transit hub, given major redevelopment plans."
In other words, far from promoting economic development, the streetcar would have obstructed it if it had been built somewhere where people might actually want to go. What a resounding endorsement.