Denver's Mayor Michael Hancock has issued what he calls a Mobility Plan. But if carried out, it will actually reduce the mobility of the residents of America's nineteenth-largest city. Instead of doing anything to relieve congestion, the number one listed goal of the plan is to increase the share of commuters walking, cycling, or taking transit to work to 30 percent. Such a 146-percent increase over the current 12.2 percent is unattainable, so the plan ends up devoting most of the city's transportation funds to forms of transportation that are either insignificant or obsolete.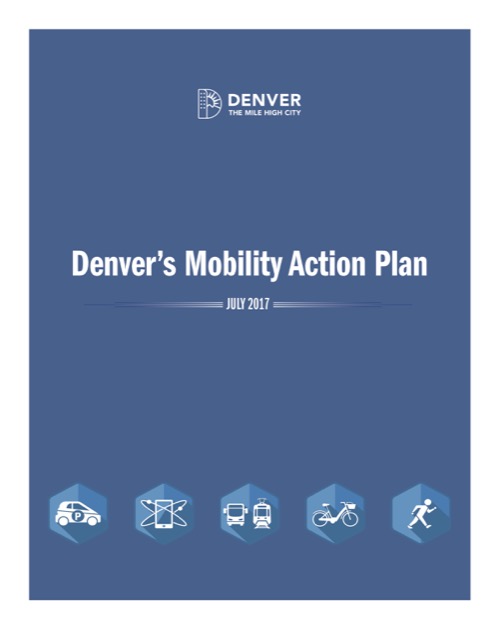 Click image to download a 5.5-MB PDF of this plan.
The centerpiece of the Mayor's plan is dedicated bus lanes on Colfax, Denver's most important east-west street. Currently, buses carry about 22,000 people a day, more than any other corridor in Denver. But, as the Antiplanner noted recently, dedicated bus lanes can move than many people per hour, and even the 50,000 people per day that the city optimistically projects for Colfax isn't enough to justify dedicating that much street space to buses.
Beyond this, the plan proposes to build new sidewalks and bike lanes, make streets narrower (which may be good for pedestrians but is bad for cyclists and motor vehicles), and rebuild a few intersections in the city to make them safer. Traffic congestion costs Denver-area residents more than $2 billion per year, but except for a minimally funded proposal to dynamically coordinate traffic signals, virtually none of the plan's actions aim to relieve congestion.
This is the wrong way to plan. Instead of starting with an unattainable objective and then allocating funds as if it were attainable, the plan should set goals such as congestion relief and pollution reduction and then attempt to find the most cost-effective ways of achieving those goals. While the plan does have a goal of reducing emissions, there is no evidence that city planners made any effort to find the best way of reaching that goal.
As in so many other places, Denver's transit ridership is declining even as the city proposes to spend even more on transit infrastructure. Ridership in the first six months of 2017 was 7.7 percent lower than the same period in 2016. Of course, the Antiplanner contends that shared driverless cars will reduce ridership to nearly zero, thus rendering any spending on transit infrastructure a complete waste.
The mayor's plan pays lip service to driverless cars, saying the city will "work with the Colorado Department of Transportation, Panasonic Enterprise Solutions Co., and other partners to prepare for the introduction of connected and autonomous vehicles." Wait, who? Panasonic Enterprise Solutions is a high-tech company that recently received millions of dollars in state and city subsidies to locate its technology center near Denver's airport. So, after giving the company millions in subsidies, the city is promising to make Panasonic the preferred provider in whatever it is the company tries to sell.
Meanwhile, the mayor's proposed 2018 budget would fund the reconstruction of three intersections, construction of 15 miles of bikeways, and a variety of other "multimodal projects." In short, the mayor proposes to do very little for congestion relief.
Like it or not, 86 percent of Denver workers drive to work, and Denver residents use automobiles for an even higher percentage of other travel. City planners can't wave a wand and suddenly double transit ridership and/or walking and cycling. So the city should plan for what people will do, not for what planners wish they would do.