It's official: fewer than 34,000 people died in highway accidents in 2009. That is the fewest highway fatalities since 1950 and the lowest fatality rate per billion vehicle miles in automotive history.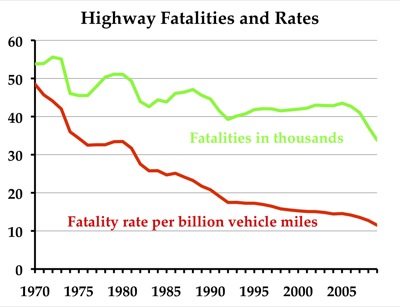 In 1910, nearly 450 people died for every billion vehicle miles driven. This declined to 150 by 1930, 72 by 1950, under 50 by 1970, just over 20 by 1990, and around 11 in 2009. Few sectors of our economy have seen such large and continuous improvements in safety.
But the recent decline is a surprise. After falling pretty steadily from a peak of 55,600 deaths in 1972, fatalities leveled off at around 41,000 deaths in 1991. Safety improvements continued, so fatality rates declined, but this was mitigated by increases in driving, so overall fatalities remained constant. As recently as 2007, 41,000 people died on the highways.
Then, in 2008, fatalities dropped to 37,261. Most commentators agreed that this 9.3 percent decline resulted from the 3.5 percent decline in driving. But driving increased slightly in 2009 (by 0.2 percent), yet fatalities declined by another 9.3 percent.
One commentator "attributed the improvements to more motorists wearing seat belts, better enforcement of drunken driving laws and enhanced vehicle safety features." But two of these factors do not apply to motorcycles, yet motorcycle fatalities declined by 16 percent in 2009.
Analysts at the University of Michigan have taken a detailed look at recent declines in fatalities, but did not find that any one factor was primarily responsible for the improvements. However, they did find that the greatest reductions in fatalities took place during rush hours. Other data show that the biggest declines took place on interstate freeways and urban arterials, while declines on local streets were the smallest.
High unemployment rates suggest that, even though total driving might have increased slightly in 2009, rush-hour driving might not. So one way to improve highway safety is to have a recession. Another way is to increase highway capacities so there is less congestion. After all, if a 3.5 percent decline in driving can produce a 9.3 percent decline in fatalities, wouldn't a 3.5 percent increase in highway capacities have produced the same result without having a recession?
This is not to say we should justify highway subsidies based on possible safety improvements. But those who oppose construction of new highways can be blamed for the lack of any reduction in highway fatalities between 1991 and 2007. The safest highways in America are urban interstates, where fewer than five people are killed per billion passenger miles. Particularly if they can pay for themselves through tolls or other user fees, safety advocates should promote the construction of more such highways.