Even smart-growth planners believe, or say they believe, that Le Corbusier's Radiant City would be an awful place to live. If you agree, then Seoul is a scary place, as much of it consists of hundreds of high-rise apartment blocks.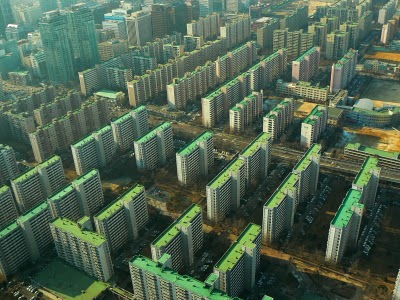 Seoul occupies less than 2 percent of Korea's land area but contains 40 percent of the population. From the air, it looks like the worst of both Radiant City and urban sprawl, but the sprawl appears to be mostly factories as modern assembly-line methods require horizontal operations. Despite this factory sprawl, the average population density of the Seoul urban area is about the same as that of New York City–meaning it is five times greater than the New York urban area (which includes northern New Jersey).
Hidden behind the high rises are numerous mid-rise buildings, the classic mixed-use developments of Jane Jacobs' Greenwich Village. I asked someone if she lived in a high rise and she said no, she hated the high rises and lived in a mid rise–but her hope is to someday live in a cottage, meaning, of course, a single-family home.
Although Seoul has an extensive subway network and lots of buses, the streets are jammed with cars. With an extensive night life, these cars can be heard 24 hours a day, at least in the district where my hotel was located. The Korean auto ownership rate is about half that of the U.S., but I suspect the rate is higher in Seoul than in the rest of the country if only because Seoul is wealthier. I was disappointed that they did not try to reduce congestion using electronic tolling and congestion pricing, but then most American cities don't use these tools either.
It turns out conflict management is a big issue in Korea. Having been run by a military dictatorship from 1960 through 1987, Korea is a young democracy, and its residents have expressed their new-found freedoms by engaging in protests against all sorts of plans and projects. According to one estimate, these political conflicts are costing the country 20 percent of its gross domestic product. While that sounds high, the cost of these conflicts is significant enough that the government wanted some outside experts and for some reason that included me. I'll report more in a future posting.