Recently, someone asked the Antiplanner why Amtrak's high-speed rail plan is so expensive. They were referring to a proposal published in late October to increase speeds in Amtrak's Boston-to-Washington corridor to 220 mph.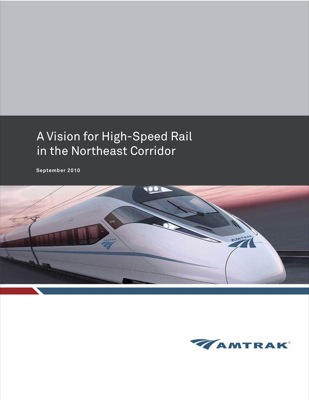 The plan calls for spending $117 billion in the 427-mile corridor, for an average cost of nearly $275 million per mile. That's almost ten times Florida's projected cost of $30 million per mile and close to three times California's projected cost of about $95 million per mile. Wikipedia reports that France kept the cost of one line down to $25 million per mile, but only by making compromises with grades and curvature.
The main thing that drives costs up is tunneling, but some Japanese lines are up to half in tunnels, and costs there mostly range from $25 to $70 million per mile. (One report indicates that the line to Nagano cost more than $1 billion per mile, but I've always wondered if that was some sort of translation error.)
Hong Kong has recently decided to build what may be the most expensive high-speed rail line in the world at a projected cost of $360 million per mile. But all of it will be underground, most of it under some of the most expensive (and crowded) real estate in the world. By comparison, page 12 of Amtrak's proposal says that only 12 percent of the new Boston-to-Washington route would be in tunnels.
At first, I suspected Amtrak was including a lot more than just the Boston-to-Washington line in its $117 billion estimate. But this estimate includes only that route; page 20 of the Amtrak proposal divides costs into hard construction: $67 billion; soft construction costs: $21 billion; right of way: $13 billion; contingencies: $13 billion; and vehicles: $3 billion. These are all costs that should be included in the Florida and California estimates, if not the French and Japanese reports. Even counting only the hard construction costs, $67 billion is $157 million per mile, which is way too high considering that the terrain between Boston and Washington is much easier to build on that in California.
I suspect the real story is that Amtrak simply wrote a plan for a gold-plated high-speed rail line with the expectation that Congress was ready to spend a few hundred billion on rail and it wanted in on the action. In other words, it forgot to low-ball the costs and actually produced a realistic estimate. But it had the bad luck to publish its proposal just a few weeks before the election that put the Tea Party Republican Party in control of the House of Representatives.
Update: One interesting point is that Amtrak's report admits that rail has only a 6 percent share of passenger travel in the Boston-to-Washington corridor. Amtrak frequently brags that it carries more passengers in this corridor than the airlines, but it rarely mentions highway travel. But a chart on page 4 says airlines have a 5 percent share and highways an 89 percent share. That 89 percent includes buses. If only common carriers were counted, airlines would have about a 28 percent share, Amtrak 33 percent, and buses 39 percent.