Researchers in American universities supposedly enjoy academic freedom, but don't count on it in Australia. A Sydney University researcher published findings showing that obesity in children was caused by eating too much. But the official position of the state health minister was that obesity was caused by children not getting enough exercise. So the minister had the researcher fired.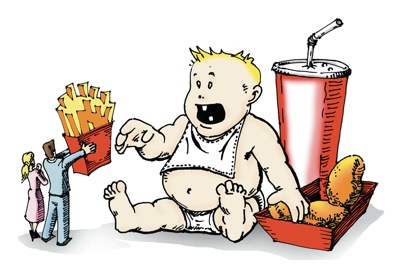 Drawing by Joe_13.
Childhood obesity is a problem all over the world. Even European countries where people supposedly walk and bike more than in the U.S., are facing increasing rates of obesity.
Meanwhile, new research out of UC Berkeley finds no correlation between fast food and obesity. That explains how a man from Virginia could lose 80 pounds in six months exclusively on food from McDonalds.
Interestingly, the Berkeley researchers used the presence of interstate highways as an indicator of fast-food restaurants. So what their research really shows is that automobility is not correlated with obesity.
Those who claim to have simple solutions, such as New Urban design, for complex and poorly understood problems are fooling themselves or deceiving the public. People should be free to live in New Urban communities if they want to, but such designs aren't going to cure obesity, global warming, or any other social problem.