Maryland's Intercounty Connector opens for traffic today, either one day or 41 years late depending on how you count. The toll road connects Montgomery and Prince George County in the suburbs of Washington, DC, an area that has grown by more than 75 percent since the road was first planned in the 1960s.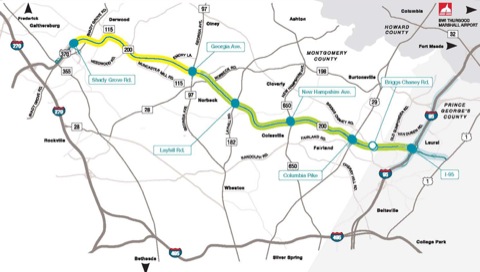 Click to download a larger map.
Although only 7.2 miles of the six-lane road opens for traffic today, the full 18.8 miles will open in 2012. At a total cost of $2.6 billion, the road costs an average of about $23 million per mile, which is typical of some urban roads but high for a rural road. About $350 million of the total cost was for environmental mitigation and enhancement.
Despite the DC area's population growth, the ICC is "the region's first new major highway in a generation," thanks mainly to environmental protests against any new roads. State officials were joined by Secretary of Immobility Ray LaHood who said a few words about high-speed rail at a ribbon-cutting ceremony on Monday.
Alan Pisarski, who attended the ribbon-cutting ceremony, remembers that when he moved to the DC area around 1966, people told him not to move to central Montgomery County because "they are building a freeway soon." And now, he says, "poof–thru the magic of modern transportation planning, only 45 years, later we have half the road done." The cost of the delay, he says, is incalculable, but he estimates that earlier construction of the facility would have reduced auto fatalities within the corridor by 75 percent, plus saved hundreds of thousands of hours of people's time and huge amounts of fuel.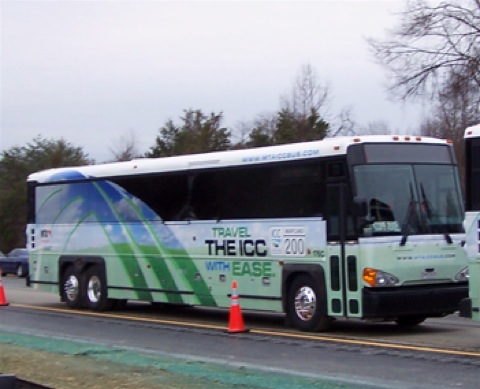 Also on display at the ribbon-cutting ceremony were new buses that will begin plying the ICC on March 1. Two new bus routes will be provided by the Maryland state transit agency.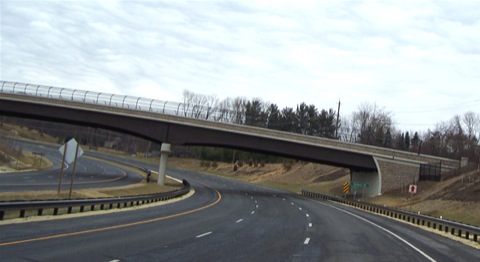 About half the cost of the road was paid for out of federal or state gas taxes, while the other half was covered by bonds that will be repaid by road tolls. Officials anticipate that tolls will also cover the costs of maintenance. All-electronic tolls range from $0.60 at night to $1.15 during peak hours for initial 7.2-mile segment; people without an EasyPass transponder will receive a bill that includes a $3 service charge.
At least some of the length of the road serves undeveloped land that will no doubt eventually be developed as the economy recovers. This undeveloped land is one reason why environmentalists continue to protest the road, although in some cases the protesters are local residents who didn't want a highway in their backyards.