The ideas of many urbanologists are heavily influenced by the cities in which they lived or grew up. To defend her mid-rise Greenwich Village neighborhood from "urban renewal," Jane Jacobs extolled the virtues of such neighborhoods and excoriated both high-rises and suburbs. Many urban planners today, fresh out of college, remember the lively streets of their university neighborhoods and don't understand why residents of quiet suburbs don't want to see their own streets turned into such neighborhoods. I myself have been focused by my revulsion to the authoritarian dictates of "smart-growth" planners in my home state of Oregon.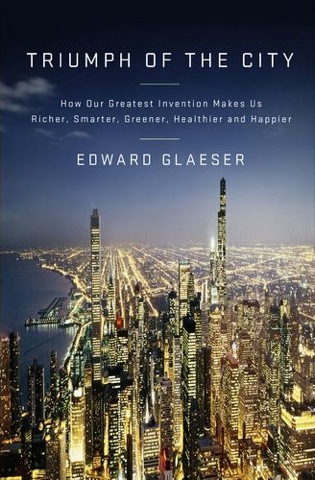 "One's own tastes are rarely a sound basis for public policy," says Harvard University urban economist Edward Glaeser. "For the government to mandate a single style of urbanism is no more sensible than for the government to enforce a single style of literature." While I completely agree with this point of view, his new book, Triumph of the City, is strongly colored by his own upbringing in a 1,300-square-foot high-rise apartment in Manhattan (p. 147).
Glaeser has done some excellent work in urban economics, and many of his prescriptions against government regulation sound fairly libertarian. Yet his book contains disappointing economic errors that lend support to those who favor government social engineering programs aimed at herding Americans into dense cities. The New York Times called Glaeser a "public advocate for urbanism," but his new book presents him more of a public advocate for an increasingly obsolete form of living.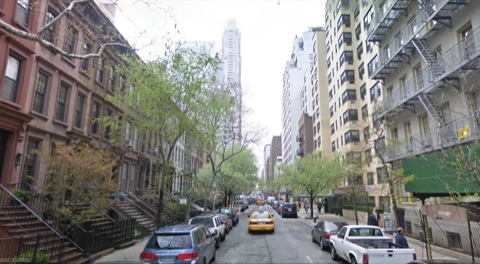 The street where he lived: Glaeser grew up in one of the high rises on 69th Street in Manhattan between 1st and 2nd avenues. In addition to mid-rises on the left, the street has lots of ground-level businesses, including (according to Google maps) a grocery, pet shop, and pizzeria.
Glaeser left Manhattan (density: 60,000 people per square mile in 2000) at age 17, but continued to live most of his life in high-density cities, including Chicago (13,000 people per square mile), Washington (9,000), and Princeton (8,000); and he currently works in Cambridge (16,000) (p. 166). He seems to think that high densities are the norm and much of his book is a love letter to high-rise living.
Less than 10 percent of Americans live in densities as great as or greater than Princeton; the average density of American urban areas is less than 2,700 people per square mile. Except for a brief fellowship at Stanford in Palo Alto (2,500), Glaeser has never experienced such densities–never, that is, until seven years ago when he and his family moved to a 6.5-acre lot next to a 600-acre conservation area in Weston, Massachusetts (less than 700 people per square mile). He is very apologetic about this, suggesting he might rather raise his children in the same high-rise environment which he enjoyed as a youth. But, you see, the government made him move to the suburbs.
The government did that, he argues, through "anticity" policies, including the mortgage-interest deduction (most urbanites rent, he says, so policies favoring homeownership are "anticity"), better-funded schools in the suburbs, and the Interstate Highway System. None of these arguments hold water. Homebuyers in most major cities can get their mortgage-interest deductions by buying low-rise, mid-rise, or high-rise condominiums. Many states have equalization policies that guarantee the same funding per pupil to all schools, yet those states still have disparities in city vs. suburban high school graduation rates.
Glaeser's claim that the Interstate Highway System that allows him to drive 15 miles to work in 25 minutes was "generously subsidized by the federal government" (194) is particularly ironic. In fact, the highway he takes most of the way to work is the Massachusetts Turnpike, which was entirely paid for out of tolls. Other interstate highways were 100 percent paid for out of federal and state gas taxes. The interstates represent just 2.5 percent of roadway lane-miles yet carry 24 percent of traffic and therefore generate close to 24 percent of the gas taxes used to pay for roads. Though interstates cost about twice as much, per lane mile, as lesser roads, they could cost eight times as much and the gas taxes they generate would more than pay for them.
If the federal government had not used gas taxes to build the interstates, someone else–either the states, cities, or private parties–would have built them using gas taxes or tolls. On the other hand, according to the Federal Highway Administration, Massachusetts spends 44 percent of its state gas taxes and 20 to 30 percent of its share of federal gas taxes on transit. So it is the suburbanites who are subsidizing the city transit riders, not the cities subsidizing suburban drivers, as Glaeser seems to think.
Part of Glaeser's problem is that he never really defines what he means by "city." Much of the time, he distinguishes city from suburbs, but other times he includes the suburbs.
Census data offer three units that might be called "city" or "urban," but only one of these is valid for most economic analysis. First are the political jurisdictions called "cities," of which the oldest and/or largest in a region is sometimes called the central city. Many cities in a region economically interact with one another, so it makes no sense to single them out one at a time.
A second choice is metropolitan area, which includes the central city, all the land in the county in which the central city is located, and all the counties surrounding it that send a significant number of commuters to the central city. The problem with this definition is that huge portions of some metropolitan counties are actually rural. The Greater Los Angeles metropolitan area, for example, extends to the Nevada border and includes the entire Mohave Desert.
The only valid unit for most economic analyses is the urbanized area, which includes the central city plus all contiguous incorporated suburbs and unincorporated land that is developed to densities of at least 1,000 people per square mile. This is often significantly smaller than the metropolitan area.
Glaeser makes the mistake of confusing metropolitan with urbanized areas when he tries to explain why few people in some regions ride transit. Santa Clara County (which is the San Jose metropolitan area), he says, has only 1,400 people per square mile, and "car-based living goes together with low density levels." In fact, thanks to urban-growth boundaries, only 20 percent of Santa Clara County is urbanized, and at 6,000 people per square mile the San Jose urbanized area is actually denser than the New York (5,300), Washington (3,400), Chicago (3,900), and Boston (2,300) urbanized areas, all of which have much higher transit usage.
Because of this mistake, Glaeser misses a key insight: it is job density, not population density, that leads to high transit usage. San Jose's jobs are distributed throughout the urban area, while transit regions like New York have high concentrations of jobs at their core. Yet Glaeser seems to think that increasing population densities alone will reduce auto driving.
In taking this position, Glaeser is on the wrong side of a debate between those who believe in mobility vs. those who want the government to favor smart growth. Smart-growth advocates say Americans drive too much and the solution is to pack people into denser cities where they can reach destinations by transit, walking, or cycling. Smart-growth prescriptions include urban-growth boundaries and other policies to limit low-density development combined with subsidies to transit and high-density housing. Mobility advocates oppose mandates and subsidies and say that government should either spend highway user fees on highways, not transit, or get out of the way and let the private sector build new roads.
Glaeser doesn't support mandates or subsidies, but many of his arguments parallel those of smart-growth advocates. This wouldn't be bad if the arguments were valid, but too often they are not.
For example, Glaeser, along with many smart-growth advocates, seems to regard the automobile as a pure social bad, since cars led people to leave the dense inner cities (p. 179). He never mentions the huge benefits provided by automobility, including large increases in personal income, access to better housing and consumer goods, and innumerable social and recreational opportunities.
On the other hand Glaeser does endorse the "induced-demand" myth, that is, the idea that there is no point in building more roads because it simply leads to more driving. "Building more roads almost never eliminates traffic delays," he says (105). Though this idea is much beloved by the anti-mobility school, it is completely absurd. There is no economic good that people will consume in unlimited quantities no matter how much is produced.
Glaeser's answer is that highways are "free," but this is far from true. Americans spend an average of 35 cents per vehicle mile driving, of which 2 to 3 cents are paid in gasoline taxes and tolls to support road construction and maintenance. What Glaeser fails to recognize is that American roads became congested because gas taxes were not indexed to inflation. During the inflation of the 1970s, many states virtually stopped road construction despite continuing growth in driving because they couldn't afford to build them.
What is true is that roads are poorly priced, and tolls or vehicle-mile fees are now technologically feasible and would make more sense than gasoline taxes. Glaeser supports congestion pricing of roads, though he confuses true congestion pricing with the cordon charges used in London that are more aimed at raising money for the city than at reducing congestion. But even with the best pricing system, many cities are so congested that users would benefit from (and willingly pay for so long as they know their fees weren't diverted to non-highway programs) highway expansions.
Glaeser's economic argument in favor of dense cities relies on the notion that face-to-face contact is more valuable than contacts by phone or even video (34-37). But thanks to the automobile, we can have such face-to-face contact with far more people, and a greater diversity of people, than those who are within walking distance of a Manhattan high rise. Thanks to the Internet, we can dispense with face-to-face contacts when doing such routine things as shopping and many types of work. In other words, the economic forces that built dense cities such as London and New York are far weaker today, while the decentralizing forces of automobility and telecommunications are only getting stronger–facts that Glaeser fails to acknowledge.
Glaeser responds that dense cities, especially those with high-rise apartments, are "greener" than the suburbs, but there are many reasons to think this isn't true. First, his sole measure of "green" is carbon-dioxide production, but there are a lot of other measures that would not favor dense cities, including concentrations of air pollution, noise, and light pollution. Beyond that, as I showed earlier this week, densifying cities is not a cost-effective way of reducing CO2 emissions.
Glaeser has a useful analysis of why government regulation has made housing less affordable in cities like Boston and San Francisco than in, say, Atlanta or Houston (188-193). But he blames housing affordability problems primarily on NIMBYs. This misses an important insight: the key to affordable housing is giving developers access to abundant amounts of vacant, unregulated land. Potentially, Texas has nearly as many NIMBYs as California, but Texas counties aren't allowed to zone, so builders can easily meet market demand for whatever kind of housing people want. (Instead of focusing on distant parcels of land, Texas NIMBYs can use their homeowner associations to concentrate on their next-door neighbors.) While Texas cities can zone, they won't heavily regulate builders for fear that the builders will simply cross the city line.
NIMBYs can only have an influence if there is no unregulated land nearby. California cities have urban-growth boundaries that cannot be expanded without the consent of a majority of cities in each county. So even if a county wanted to allow development outside of a city, it could not without the cities' agreement. Massachusetts, along with several other New England states, has mostly given up on county governments, turning all land over to the cities, so again, there is no supply of unregulated land.
Glaeser's prescriptions for urban areas are, for the most part, similar to those of mobility advocates: reduce or eliminate land-use regulation, let people live where they want to live, but make sure they pay the costs of their choices. His book would be much stronger if it did not contain so many erroneous ideas that are used by big-government, anti-mobility advocates.