The demand for rail transit "is strong all across the country," says a new report from Reconnecting America. How do they know? They simply added up all the "planned and proposed fixed-guideway transit projects" they could find.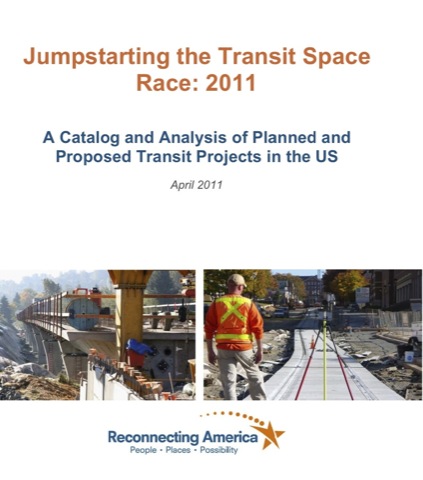 They found a total of 643 projects (1-mb Excel spreadsheet) in about 80 urban areas whose total costs were estimated to be $233 billion. Of these, 43 are under construction, 95 are in the engineering phase, 108 are doing an alternatives analysis, 358 are "future plans," and 39 are "stalled." If all of these projects were built, the group promises, they "would connect 3.5 million more jobs to transit, an increase of 25 percent."
Wowee! Spending more than a quarter of a trillion dollars (plus cost overruns) would connect transit to 2.5 percent of all jobs in the country. At that price, it would cost a mere $8.2 trillion to connect the remaining 82.5 percent of jobs to transit. That makes perfect sense in a Bizarro world considering Congress just killed President Obama's high-speed rail plan to supposedly connect 80 percent of Americans for a mere half a trillion dollars.
Sadly, says the report, federal transit funds aren't "sufficient to meet the demand." As a result, it may take decades to develop this wondrous system, by which time continued decentralization makes it likely that an even smaller percentage of the nation's jobs will be "connected to transit"–which the group will no doubt interpret to mean we should have spent even more.
According to page 7 of the report, a mere 14.1 million jobs–10 percent of the nation's current total–are connected to transit today. This refers to "fixed-guideway transit" only; for some reason, the group seems to think that jobs along bus lines are not "connected to transit." It is a rather pathetic testament to the failure of the nation's transit policies that, despite spending hundreds of billions of dollars on rail projects in the last 40 years, rail transit reaches just 10 percent of jobs.
Reconnecting America is the parent of Transportation for America and the Center for Transit-Oriented Development. According to its 2008 tax return, it received at least a third of its $3 million budget from government agencies, which means it uses government money to argue for more government spending. Membership dues, meanwhile, were all of about $16,500, which doesn't suggest that the general public is enthusiastically "demanding" more spending on rail transit fantasies.
The Antiplanner won't bother to quibble with the group's use of the term "demand." But it is interesting that Reconnecting America views the goal of government as "connecting jobs to transit" by building expensive rail projects and then relocating jobs into transit-oriented developments along those rail lines. It seems likely that, if we killed all subsidies to transit, transit operators would quickly realize that their jobs is to connect transit to jobs, not the other way around, and that the most efficient way to do this is to use buses, vanpools, and other small-box, rubber-tired vehicles, not trains.
The report's reference to the "transit space race" is also amusing, as if there is some kind of "sputnik moment" urging us to build late-nineteenth- and early-twentieth-century transportation systems in our cities. Just who are we racing against: Europe?
At latest count, about 30 American urban areas have rail transit (not counting vintage trolleys and other trivial systems), and the average American travels just 90 miles a year by rail transit. More than 130 European urban areas have rail transit, yet the average European rides rail transit less than 110 miles per year–and less than 100 miles per year in the EU-15, meaning most of Western Europe (see p. 108). This is the kind of "space race" we want to lose.