One of the subthemes of the Antiplanner's latest book is that there is a growing divide between the middle class (meaning people with white-collar jobs and their families) and the working class (meaning people with blue-collar jobs and their families). Charles Murray's latest book, Coming Apart, explores this split in more detail. He bravely proposes a cause of that split and suggests a possible solution.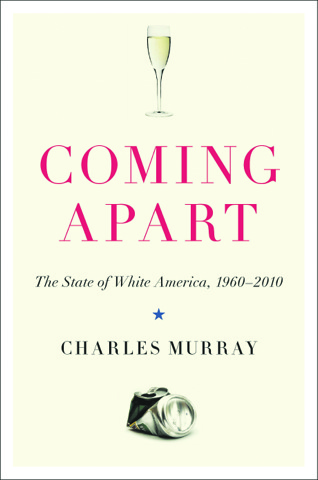 Part of this book is the next book the Antiplanner wanted to write. Murray provides a great statistical review of growing income inequality leading to frightening conclusion that the United States is turning into a two-class society, one an upper-class elite and the other lower-class drudges who lack economic security or well-being. However, Murray's explanation of this decline, and his remedy, are both far less persuasive.
According to Murray, the United States was founded on four "virtues": "industriousness, honesty, marriage, and religiosity" (p. 127). He documents the decline of these virtues since 1960 and argues that this decline is the cause of the split. Moreover, he argues that "nonjudgmentalism"–that is, the elite's tolerance of the decline of those virtues and its unwillingness to criticize anyone for doing such things as having children out of wedlock, failing to earn a living, or even going to jail–is what has allowed the decline to take place (p. 289).
"A social democrat may see in [these trends] a compelling case for the redistribution of wealth," says Murray, while "a social conservative may see a compelling case for government policies that support marriage, religion, and traditional values" (p. 234). As a libertarian, he doesn't think government can promote these values but he does think government can help destroy them, so his remedy is "limited government" combined with a hope that, if government gets out of the way, the country will experience a "great awakening" in which people suddenly realize that they need to go back to work and apply social pressure on others to do the same.
Not surprisingly, many people find this unconvincing–and the Antiplanner is among them. Murray is relying on a correlation equals causation argument: certain things such as marriage declined at the same time as income equality, so he presumes that the first caused the second.
Like many other observers, Murray has tried to explain the decline in income equality since it peaked in the late 1960s. (The Gini coefficient, a standard measure of income inequality, bottomed out in 1968; Murray puts the turning point at 1964; but others say the early 1970s. I'll just use 1970 here.)
What Murray misses is that any explanation for the decline must also address why income equality grew before 1970, as it was much lower in 1910 than in 1970, and quite possibly lower in 1910 than it is today. If we apply Murray's theory, then industriousness, honesty, marriage, and religiosity must have grown between 1910 and 1970. While I haven't looked at any data yet, I am going to go out on a limb and guess that they probably did not.
So the real question that must be asked is not just what caused the decline since 1970 but what caused the growth in income equality from, say, 1940 to 1970 and a decline afterwards. Offhand, I can think of two major things that aren't a part of Murray's "founding virtues."
First, homeownership rapidly rose from 1940 (when it was about 43 percent) to 1970 (when it was about 63 percent, or just a couple of percentage points shy of today). Since then, homeownership in some states (including Oregon and California) has declined, and the affordability of homeownership–and therefore its net value to homeowners–has declined in many more states.
Second, the cost of college educations fell to nearly nothing after World War II, as the government offered virtually free educations to returning veterans and states continued to offer very low-cost educations to students for several decades after that. My four years of undergraduate education cost my parents about $3,000, including all four years of tuition and books and at least two years of room and board. That's about $16,000 in today's dollars, which–considering the course load I was taking–is about one year's worth of today's tuition alone at the university I attended.
There may be other factors that contributed to a reduction of income inequality before 1970 and an increase after that year, and I hope some of my readers will suggest them. But my main point is that it is very likely that the problem is institutional, not a decline in morals, because only institutional explanations are likely to account for both the decline and increase.