Stung by the entirely accurate criticism that it is one of the worst-run transit agencies in America, San Jose's VTA has come up with a breath-taking plan for improving its efficiency. Naturally enough, the plan is called the light-rail transit efficiency project.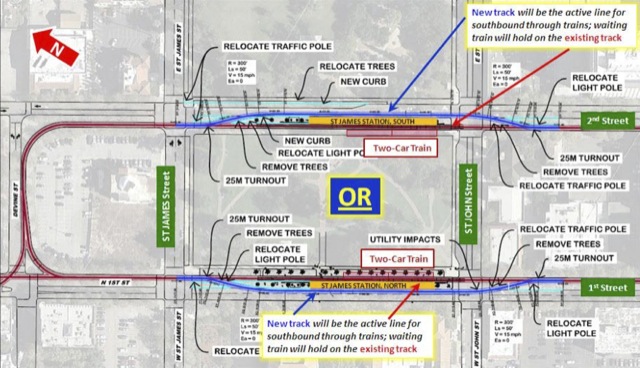 Click image to download an 8-MB presentation describing San Jose's "light-rail efficiency plan."
The plan (see summary here) consists of spending up to $25 million building two passing tracks so that express light-rail trains can pass local trains in downtown San Jose. I know what you're thinking: this has to be a work of genius. I mean, who would ever think of one transit vehicle passing another? Except, of course, buses, which do it all the time and which don't need millions of dollars of new infrastructure to make it possible.
San Jose has more than 40 miles of light-rail routes, but they only serve a tiny fraction of the 348-square miles of VTA's service area. Just how is building a passing siding or two going to fix one of the least-efficient transit systems in the country? All it will really do is flush a few more million taxpayer dollars down the drain.
If VTA really wants to improve the efficiency of its system, it would sell its light-rail cars to some other gullible city and run buses instead. It could leave the tracks in the ground, or pull them up if the scrap value is sufficient to cover the cost of repaving the streets. Spending even more money on a transit system that is obsolete and inappropriate for the region it is supposed to serve is not the solution.