Streetcars apparently aren't stupid enough for Michael McDaniel and Jared Ficklin of Frog Design in Austin, Texas. They've come up with an even stupider idea: moving people around on urban networks of ski lifts. Each ski lift would consist of scores of small cars suspended from wires, and each car would carry six to twelve people.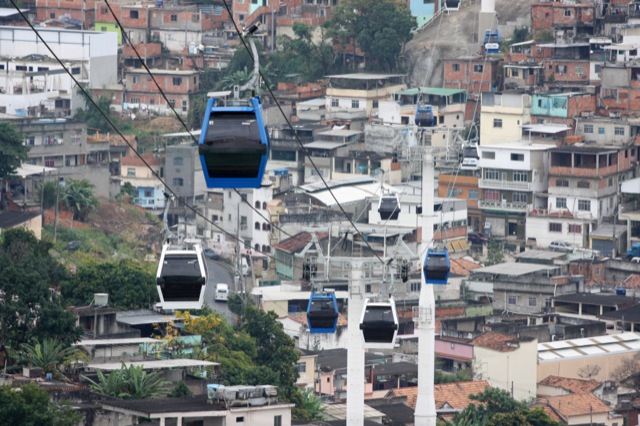 The 152-car, 2.1-mile gondola system in Rio de Janeiro cost $74 million, goes about 8 mph, and is expected to carry up to 30,000 people per day. Flickr photo by minplanpac
They estimate that a base system could cost as little as $3 million per mile. If you insist on weighty luxuries such as air conditioning and heat, the cost rises to $12 million. They admit that in urban areas the costs are more likely to be around $24 million per mile, but say that is still less expensive than streetcars or light rail. That's like saying french fries are healthy because they aren't as heart-attack-inducing as eating pure lard.
Similar systems have recently been built in Medillin, Columbia; Caracas, Venezuela; and Rio de Janeiro, Brazil. The one in Brazil cost $35 million per mile, and I suspect construction costs in a country whose per capita income is about one-eighth of the U.S. are a little lower than here.
McDaniel and Ficklin estimate speeds of 12 to 15 miles per hour. Though they say some chair lifts are faster, it isn't clear that higher speeds are possible with the enclosed-car systems they envision since they will require extra time to unload and load cars with higher capacities than one- to three-person chairs. The gondolas in Rio de Janeiro and Medellín, Columbia go about 8 to 10 mph.
At "peak operating efficiency," they estimate throughputs of 3,000 people per hour in each direction. Although they say this is a "very respectable number in the mass transit industry," it actually isn't very much. (One article says 10,000 people per hour, but that counts vehicles in both directions, so it is really only 5,000 per hour in one direction.) In a presentation to the Round Rock, Texas city council, they suggest individual parties of people would not be expected to share vehicles with strangers, so the average number of people per car would be far lower than their capacity.
As the Antiplanner has previously observed, ordinary buses on city streets can move nearly 7,000 people per hour, while buses on dedicated freeway lanes can move 24,000 seated people per hour and 30,000 people per hour including standees. Substituting double-decker buses doubles all those numbers. So 3,000 people per hour is not very impressive compared with anything other than streetcars (which can move about 2,000 people per hour, most of them standing). The gondola in Brazil has a capacity of about 30,000 people a day, and unless days in Brazil are less than 10 hours long that's less than 3,000 people per hour counting both directions, meaning its capacity is even lower than streetcars.
One advantage of an aerial system is that it could easily go over buildings or other obstructions. On the other hand, going around corners requires some tricky engineering. But an even bigger disadvantage that McDaniel and Ficklin gloss over is that ski lifts are all point-to-point, which means in an urban network most people would have to either change cars several times in the course of their trip or they would have to allow cars full of people to pass through stations.
On a continuous cable system, every car slows at every station so people can get off and then other people get on. This means people who stay on board end up going at a lower average speed than people who just go from one station to the next one. Meanwhile, if people pass through stations without getting off, other people who want to get on at that station have to wait for the next empty car, also increasing travel time. This may be why the multi-station systems in Brazil and Columbia go so much slower than 15 mph.
So what we are really talking about is a low-capacity, slow-moving system. Contrary to McDaniel's and Ficklin's claims, such a system is hardly suitable for moving people from airports to home or home to work. It most closely resembles the automated guideway systems built in Detroit, Jacksonville, and Tampa. These were all embarrassing failures; the Tampa one was shut down in 1999 after less than 14 years of hemorrhaging money.
Not surprisingly, there are already whole websites aimed at promoting this idea, some of them no doubt funded by the contractors who build ski lifts. Does multimodalism really mean we have to copy every wacky idea that moves a handful of people at a high cost?
You would think that people in Austin would have learned by now that fixed-guideway transit systems just don't work. Austin's Capital Metro built a commuter-rail system that cost twice as much as promised and opened two years late. This line is 32 miles long, which means it still cost a lot less per mile than the skyway system proposed by McDaniel and Ficklin. But in 2011, the commuter-rail line earned just $955,000 in fares against $10.3 million for operations and maintenance, for an average operating subsidy of nearly $25 pertrip. The cost overruns, high operating costs, and lack of revenue have nearly bankrupted the agency. Yet this doesn't stop people from imagining that, if only they had chosen some other fixed-guideway mode, everything would have been fine.