Commemorating the 40th anniversary of the passage of Oregon's "landmark" land-use law, known as Senate Bill 100, a columnist with the Salem Statesman-Journal looks back at the history of the passage and early implementation of that law. If he had looked a little closer at the long-term effects, rather than just the back-room dealing, he would have found an unhappier story.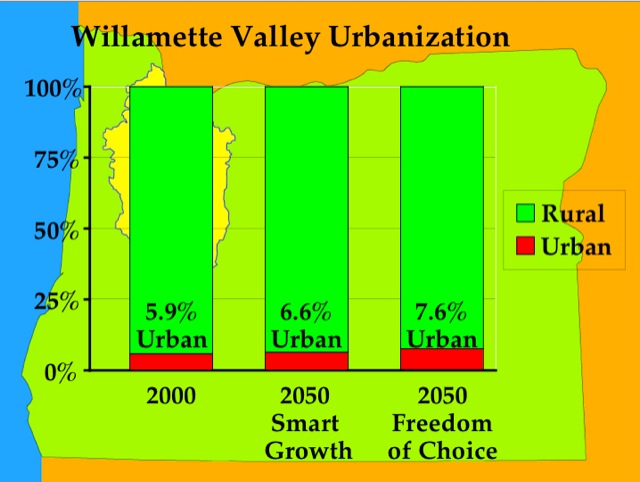 First, the law made housing in Oregon unaffordable. Before the law was passed, median home prices were consistently about two times median family incomes. As Oregon cities began drawing urban-growth boundaries, prices quickly shot up to three time incomes and today stand at four times incomes. While developers in most other states were able to buy large parcels of land and design beautiful and affordable master-planned communities, such developments were rendered illegal in Oregon since no large parcels were available inside of urban-growth boundaries. Land-use regulation also made home prices more volatile, leading to a huge drop in prices in the 1980s and another big drop after 2008.
Second, the law contributed to Oregon's hostile business environment. Except for a few select high-tech industries that were blessed with tax breaks, most industries in the state declined. Oregon leaders decided to "diversify," meaning become less dependent on the timber industry, but instead they became dependent on the silicon chip industry, leading to a big decline in the state's economy with the dot-com crash. Meanwhile, home-grown companies like Hollywood Video left in anger at Oregon's ridiculous land-use rules. One result is that, during recessions, Oregon often has the first or second highest unemployment rates in the nation.
Third, the law slowed population growth in Oregon, which some people might count as a plus. While the population grew by 26 percent in the 1970s, it grew by only 8 percent in the 1980s, 20 percent in 1990s, and 18 percent in the 2000s.
Fourth, far from reducing the cost of services, the law contributed to Oregon becoming a high-tax state. Oregon's tax burden is one of the highest in the nation, exceeded by only 11 other states (most of which also have similar land-use regulation).
Last but not least, the law trampled on people's property rights. The 80 percent of Oregonians living in urban areas more-or-less told the 20 percent of Oregonians who live on and own about 97 percent of the private land in the state, "We've decided your land will be our scenic viewsheds, so you can't develop it."
Just what did Oregon get for all this except a sense of smugness for exercising almost complete control over private lands? Not much. According to 2010 census data, 98.8 percent of the state is rural and only 1.2 percent is urban (meaning developed in communities of 2,500 people or more). That sounds like a lot of rural land, but how much of it is really due to Senate Bill 100?
Colorado has no state-wide land-use law, and it is doing better than Oregon on almost all counts: more affordable housing, faster growth, lower unemployment rates, and lower tax rates. Colorado has more land than Oregon but it also has 5 million people to Oregon's 3.8 million, so its overall population density is 48 people per square mile compared with Oregon's 40. But the urban areas of both states have almost the same densities: 2,836 per square mile for Colorado vs. 2,805 for Oregon. Despite having no state land-use laws, 98.5 percent of Colorado remains rural.
Two-thirds of Oregonians live in the one-seventh of the state known as the Willamette Valley. As the Antiplanner documented several years ago, a study commissioned by pro-land-use planning groups found that 5.9 percent of the valley was urbanized and predicted that, under current land-use laws, this would increase to 6.6 percent by 2050. The study also estimated that, if all land-use laws were abandoned and the state "let private property rights and short-term market forces call the shots," then 7.6 percent of the valley would be urbanized by 2050. A one percent difference is hardly enough to worry about, much less justification for imposing all of the above costs.
Thanks to the silence (or ignorance) of the planners who imposed these rules, most Oregonians are only dimly aware of the huge negative consequences and minimal benefits of the state's land-use planning system. If they fully understood, they would probably vote quite differently in state gubernatorial and legislative elections.