OFP2003 pointed out yesterday that Tesla Motors founder Elon Musk has finally revealed what he means by a hyperloop, which he proposes should be built between Los Angeles and San Francisco. As described in detail in this paper, he proposes an elevated tube paralleling Interstate 5 through which capsules or pods move at near-supersonic speeds propelled by linear induction motors.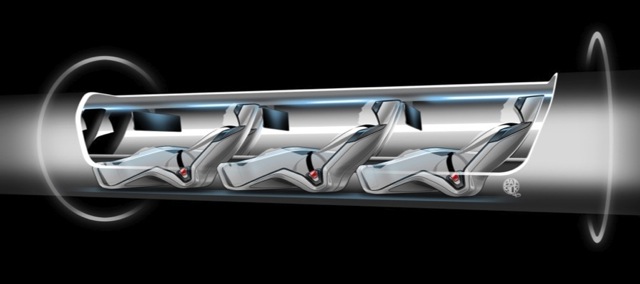 Claustrophobes need not apply: Hyperloop passengers would be stuck in a windowless seat with limited headroom for the hour or so it would take to get between Los Angeles and San Francisco.
Musk estimates that a tube capable of carrying both people and freight would cost about $7.5 billion to build. Each capsule would have 28 seats, and could depart on two-minute headways. He says this would be enough to carry all six million people who today travel between the San Francisco and Los Angeles areas each year.
The Antiplanner certainly has no problem if he wants to build a hyperloop with his own or other private investors' money. But in general I am skeptical about any infrastructure-heavy form of transportation, especially mass transit systems that only serve a few destinations.
To start with, Musk contrasts his estimate of a $7.5 billion cost with the $100-billion-plus cost of high-speed rail. But that $7.5 billion estimate is amazingly close to the original estimate of high-speed rail's cost, which was about $9.8 billion. It seems likely that the real cost of the hyperloop will be much higher than Musk thinks.
While the hyperloop would be far faster than the proposed high-seed rail, it will only be about the same speed as flying. The main disadvantage of flying today is airport security; it would be a lot cheaper, and far less risky, to figure out ways to speed up security than to build an infrastructure-heavy, 400-plus mile system using a brand-new technology.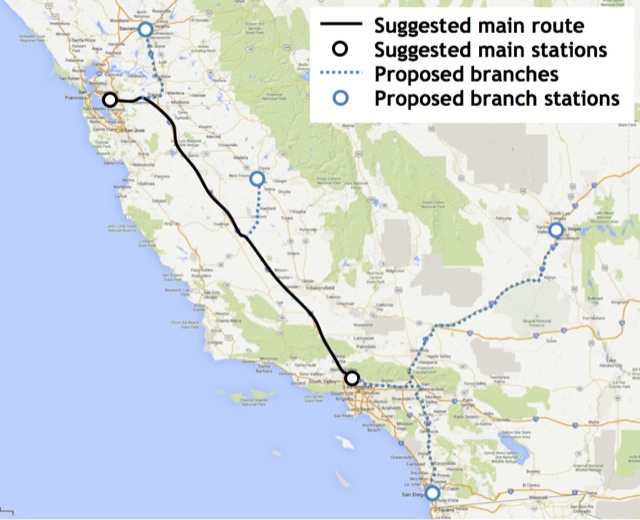 Musk's map of a possible hyperloop network makes it clear that, unlike a car, bus, or train, the hyperloop can serve only a limited number of destinations with no intermediate stops.
Turning to Musk's demand estimates, it is important to point out that, if six million people a year travel between the San Francisco and Los Angeles areas, far more travel between either of those areas and points in-between or points to the north of San Francisco or south of Los Angeles. The hyperloop would be restricted to serving only those between the main two terminals, so it would only have access to a small fraction of total traffic.
This means most people will find the hyperloop useful for only a few trips a year, and not being in the habit of using it probably wouldn't use it for those trips either. Serving more destinations means adding far more infrastructure, which is expensive and even more risky.
Moreover, he is optimistic to think that all, or even a significant fraction, of the six million people who now journey between these two urban areas would shift to the hyperloop. His system doesn't allow for intermediate stations, so only those people who live or work relatively close to a hyperloop station will use it frequently. That means, for example, if there is a station in downtown Oakland, as Musk proposes, people from San Jose will be reluctant to go north to Oakland only to catch a capsule south. Plus, many people will want the convenience of a personal vehicle when they reach their destination, and the hyperloop can't provide that.
In sum, the hyperloop may be faster than driving but it can't compete against the convenience of being able to go where you want to go. It may be as fast as flying, possibly even a bit faster, but its costly infrastructure would make it difficult to compete with air travel on price.
The Antiplanner has nothing against Musk, the hyperloop technology, or Tesla. But like Tesla, which is selling cars that only the wealthy can afford, the hyperloop would be an expensive gadget useful and affordable only to a few.